With Chinese outbound travel forecasted to rebound in Q3/Q4, it may well serve as the springboard for Thailand's tourism recovery, according to a recent study by C9 Hotelworks and DAC China Digital Services.

The study, which was conducted in mid-April this year, surveyed over one thousand respondents in first-tier cities within China and focused on sentiment towards outbound overseas travel, along with a deep dive into the metrics of Thailand's travel potential post Covid-19 and looking at the impact on specific destinations within the country.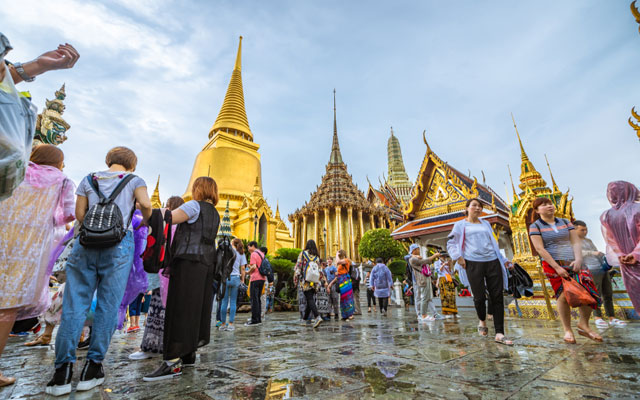 Chinese travellers' positive outbound travel sentiment set to drive return of Thailand's position as a global tourism destination; Chinese tourists in Wat Phra Kaew & Grand Palace in Bangkok pictured

Positive sentiment towards outbound travel from China highlights the survey results that reveal 53 per cent of respondents would like to travel in 2020, with the most popular months for trips abroad for the remainder of the year being August, October and December.

Getting inside the numbers, and focusing directly on sentiment towards Thailand as a destination, 71 per cent of those surveyed said they would like to travel to the country. One interesting shift in the data is that 83 per cent would choose independent travel over group tours.

Bangkok leads the charge among the most popular Thai destinations Chinese travellers want to visit, followed in order by Phuket, Chiang Mai, Koh Samui and Pattaya. Over 75 per cent of demand was pinpointed in the top three destinations.

Accommodation-wise, 72 per cent said they would prefer staying at a hotel or resort, as opposed to an Airbnb lodging; while the trip budget for 50 per cent of those surveyed was US$2,100 per person.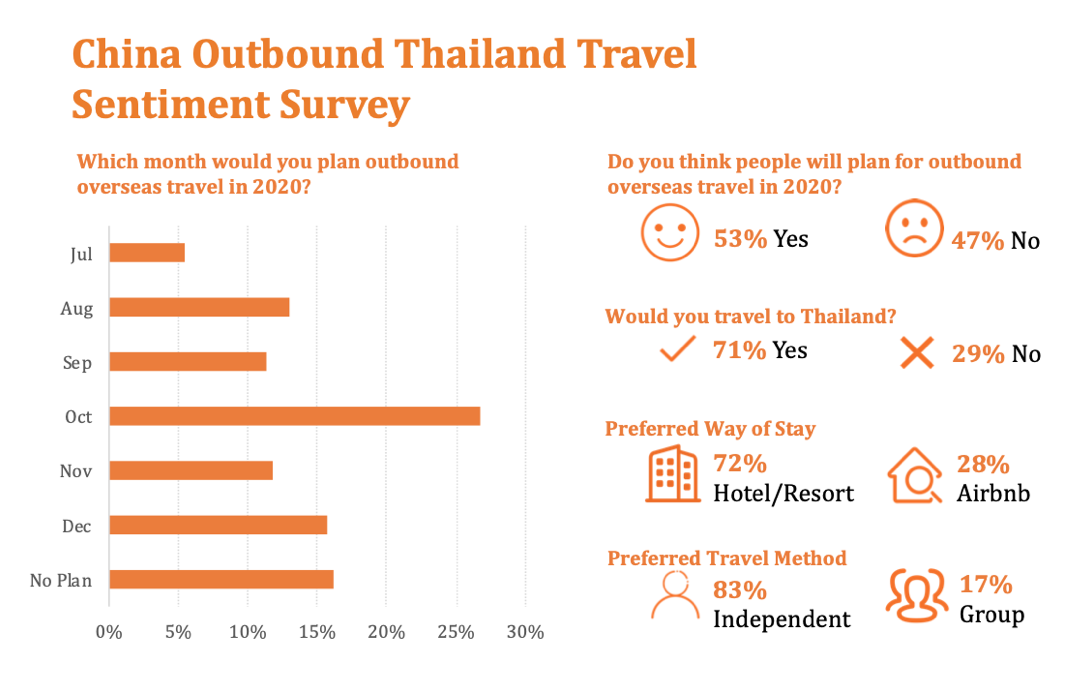 While undoubtedly, there will be a lingering global fear factor for travellers in the wake of the pandemic, Thailand's favourable door to door flying time and vast network of approved routes to the mainland supports lead indicator. Another is the appreciation of the Chinese yuan against the Thai baht in 2020, after reaching a low point in 4Q2019. Thailand's policy of visa-on-arrival for Chinese travellers is also a strong driver of demand.

Thailand is one of the most impacted travel markets by Covid-19 in Asia. The country hosted 39.8 million international visitors last year, with China accounting for nearly 11 million arrivals.

The expanded Thai tourism, hotel and travel sector contributes between 12-15 per cent of GDP to South-east Asia's second largest economy.