Serbian ambassador hails bond with China, slams accusations of 'coronavirus diplomacy'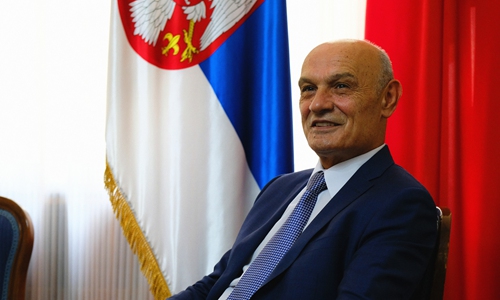 Serbian Ambassador to China Milan Bacevic Photo: Courtesy of Serbian Embassy in China
When Serbian President Aleksandar Vucic issued a call for help to fight the outbreak of COVID-19, China was the first country that answered, sending shipments of medical supplies and deploying medical experts. Meanwhile, ordinary Chinese people also voluntarily mobilized to support Serbia in the battle against the pandemic, a reflection of the deep bond shared by the two countries.

Serbia is currently taking advice from Chinese medical staff to implement a series of measures, including the building of makeshift hospitals. While the merciless pandemic threatens people's lives, the friendship between China and Serbia continues to shine, even at this difficult time.What do Serbians think of China's help for their country? How do they view the attacks from Western media outlets on the aid China is giving and China's diplomacy? Serbian Ambassador to China Milan Bacevic (Bacevic) spoke on these topics.

How do you evaluate the work of the Chinese medical team in your country and how can its experience benefit Serbia?

Bacevic: Chinese doctors are our most precious human resource today. They have survived the painful struggle, providing lessons for the whole of humanity who are now resisting the health threat through all available means. And that is why I was extremely pleased that our President Aleksandar Vucic greeted them personally upon their arrival at the airport.

How do you evaluate China's assistance to Serbia?

Bacevic: China's help is extremely valuable and salvational to us, as it has given us the hope of beating the epidemic. We are deeply grateful for its helping hand and I can say that this gesture is another confirmation of our "iron friendship." China has not yet fully emerged from the fight against the virus, but it has still come to the aid of other people facing difficulties. This is the best test of friendship. Nothing describes this more than the saying "A friend in need is a friend indeed."

What impact has the coronavirus had on Chinese investments in Serbia?

Bacevic: I think that the epidemic will not change the direction of cooperation between China and Serbia in the coming period. Our two countries have capital infrastructure projects that are of mutual strategic importance, and cooperation will continue to thrive.

Reuters reported that China views Serbia as part of its "ambitious Belt and Road Initiative to open trade links to Europe." What's your take on this?

Bacevic: Serbia is one of the earliest signatories to the Memorandum of Understanding on joint contribution of the Belt and Road Initiative (BRI) with China and is an active participant in this initiative. Our relations with China, traditionally good, have experienced a real boom in the last five years, so there is no area that has not been boosted by the trend of intensive cooperation.