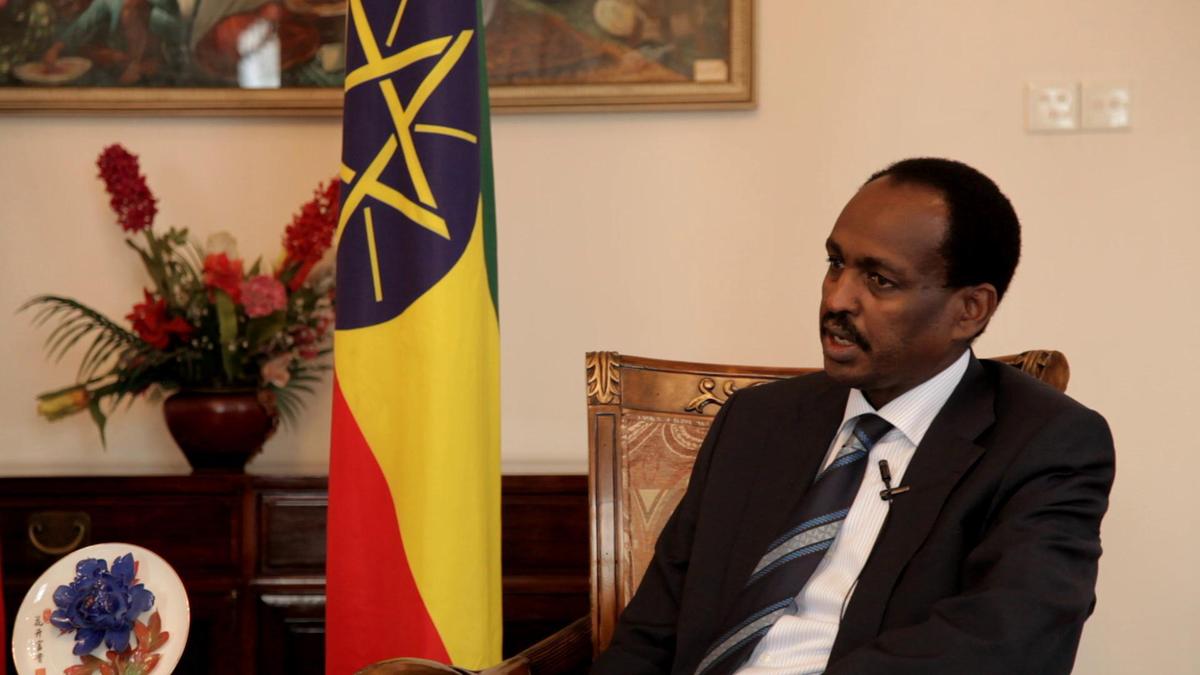 Ethiopia
's new ambassador to China has many missions on his agenda in Beijing. His country, amid an ambitious industrialization drive, wants more Chinese investment and technological cooperation. And more Chinese tourists too, one million of them.
"I would like to really work on the tourism frontier. My mission now is maybe one million Chinese tourists to Ethiopia," Ambassador Teshome Toga Chanaka said recently in an exclusive interview at his official residence in Beijing. He officially assumed his ambassadorial role in February.
The target is nothing short of ambitious, since "currently it's very low, about 50,000," the envoy admitted, "but it's very likely if we do promotion and reach out to Chinese tourists and institutions."
"The statistics of Chinese tourism are amazing. One hundred and forty million people every year travel out of their country on tourism. They spent $120 billion," he enthused.
The ambassador's ebullient confidence in the Chinese market is also built on Ethiopia's two distinctive advantages: its diverse tourism attractions and their easy access through airlines.
Addis Ababa has direct flights to five major cities in China. "Ethiopia has a flight daily to Beijing, daily to Shanghai, daily to Hong Kong, three or four times to Chengdu," Ambassador Teshome said. "There is no other one in Africa can do."
According to media reports, the new terminal of Addis Ababa Bole International Airport, newly furbished and expanded with Chinese investment, started operation in January, and its transport capacity more than tripled, from about 700 to 2,200 flights. The city has become an air transport hub for the whole continent of Africa.
PM's directive: more investment from China
In late December, on the day before Christmas, Ethiopian Prime Minister Abiy Ahmed called Teshome into his office. He had made the decision on one of his most important diplomatic posts, and wanted to deliver the news in person.
Teshome was formally informed that he would be the next ambassador to China, the country's biggest trading partner and the largest source of foreign investment.
"(I was) very much excited, given the fact that China is a strategic partner for Ethiopia," said Teshome as he reminisced about that moment. "It's a transition of my diplomatic assignment and the premier wanted to address my priorities and my focus."
The assignment came with many responsibilities - the two countries elevated bilateral relations to a comprehensive strategic partnership of cooperation in 2017 - and "one of the points the prime minister wants is to get more investment from China," he said.
Ethiopia is Africa's second most populous country. To address some of its intractable development and poverty challenges, Ethiopia has set itself an ambitious target, commonly known as Vision 2025, which is to become the leading manufacturing hub in Africa by that time.
For this purpose, Ethiopia has made a big push in building industrial parks. "The idea is brought from China and Singapore," Ambassador Teshome said. His country has planned 14 state-level industrial parks, many of which are to be built and operated by Chinese companies.
One such example is Eastern Industry Zone, Ethiopia's first industrial park invested and constructed by a Chinese private company. After a decade's development, the park now hosts 83 enterprises, including Lifan, a private automaker from Southwest China's metropolis Chongqing. Its assembly line at the industrial park has a designed production capacity of 5,000 vehicles per year.
There is "very diverse participation of Chinese companies in our economy," Teshome said. "We are also learning (through) technology transfers."
Not far from the industrial park, trains can be seen running on the Chinese-built Addis Ababa-Djibouti Railway. Ethiopia is a landlocked country, and most of its import and export transactions need to go through the port of neighboring Djibouti. Now, thanks to the Chinese-built railway, cargo transportation time has been shortened from seven days to 12 hours. Export commodities can be transported to Djibouti overnight.
"More countries should be interested" in Belt & Road
Infrastructure cooperation between China and Ethiopia, like the Addis Ababa-Djibouti Railway and the new airport terminal, has witnessed phenomenal growth under the framework of the Belt and Road Initiative (BRI), which aims to propel global connectivity and achieve shared growth among the countries involved.
"We seized the Belt and Road Initiative," said Ambassador Teshome. "I think it's something is benefiting both sides."
As bilateral cooperation heats between the two countries, diplomatic rapport has also been on the rise.
Last year, Ethiopian Prime Minister Abiy Ahmed visited China, meeting with President Xi Jinping and Premier Li Keqiang. In January, Chinese Foreign Minister Wang Yi visited Addis Ababa and held discussions with various senior Ethiopian government officials.
High-level exchanges are set to continue as PM Abiy Ahmed is scheduled to visit Beijing again later this month to attend the second Belt and Road forum, adding impetus to bilateral ties.
Ambassador Teshome is highly expectant of the upcoming forum. "New direction would be set with lessons we have learned from the past two years' experience, I think," he said.
"More and more countries should be interested, and we hope that more countries will participate in the initiative," he added.