Mr. David L. Shields received CTW Award Special Individual Recognition 2018
During the
ITB China
2018 held in Shanghai, COTRI presented the CTW Award 2018 in the Special Individual Recognition category to Mr. David L. Shields, Vice President, Sales of Island Routes Caribbean Adventures. CTW Award is recognized inside and outside China as the most important quality sign for the international Chinese outbound market.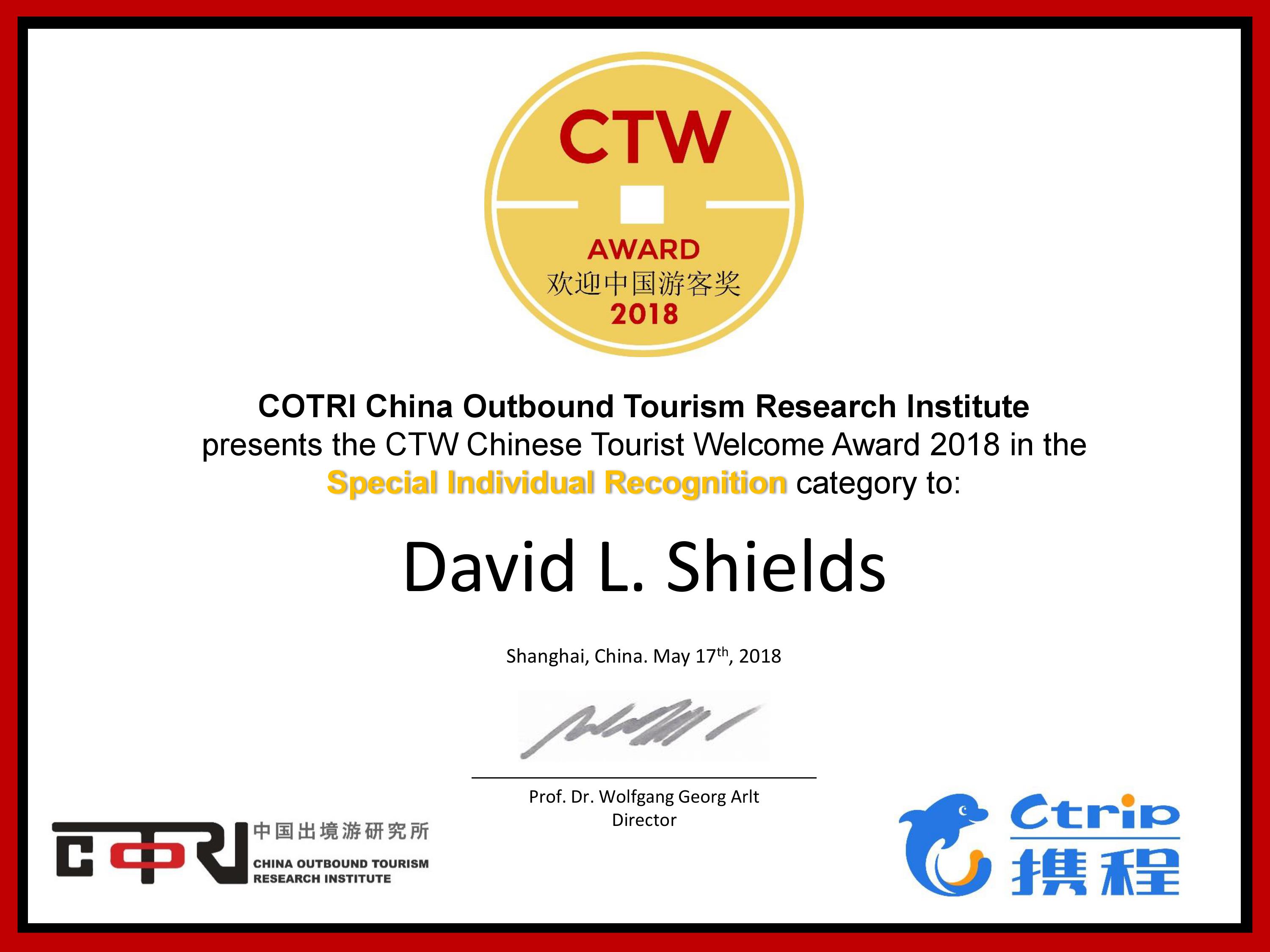 For over a decade David Shields, formerly Deputy Director of Tourism, Marketing, at The Jamaica Tourist Board (JTB) has been one of the leading Caribbean nationals to be actively involved in the development and implementation of programmes and activities to promote Jamaica and the Caribbean to the growing Chinese travel market, and has facilitated the required in-destination itineraries that are most suitable to welcome Chinese nationals to Jamaica.
In his role as Deputy Director of Tourism (Marketing) at the JTB, Mr. Shields was responsible to facilitate those critical Government and Private Sector entities to ensure the immigration facilitation, Chinese language sales & marketing programmes, product development and communication among all tourism related entities.
Mr. Shields, together with
China Business Network
(CBN, parent company of
World Travel Online
and
CBN Travel & MICE
), the China market expert to assist in the development of the market strategy, moved immediately to satisfy the requirements for travel by establishing key relationships in China and to implement an education and familiarization plan targeted at the approved Chinese outbound Tour Operators.
Mr. Bartlett, Minister of Tourism, Jamaica and Mr. David Shields

received the CTW award fduring the COTTM 2018.

During the COTTM 2009, Jamaica Tourist Board won the CTW Golden Award

for Service Quality.

Mr. David Shields (middle) and

Jamaican Ambassador Courtenay Rattray (right)

were receiving the Award.
Under David's leadership, Jamaica led the region in the promotion of its Destination in China having participated in a number of programmes in many of the important gateway cities. Jamaica has been active at all the major outbound travel shows to include, but not limited to, the
China Outbound Travel & Tourism Market
(COTTM),
Sichuan International Travel Expo
(SCITE) and a lot of food, music and cultural events. He successfully negotiated with China National Travel Service Group, the world's largest travel group, and other travel companies in China's regional travel networks to secure flights and packages to the Caribbean.
Today, working in the private sector, Mr. Shields continue to deliver unique destination experiences to a number of Chinese visitors on escorted visits to Jamaica and across many destinations in the Caribbean.