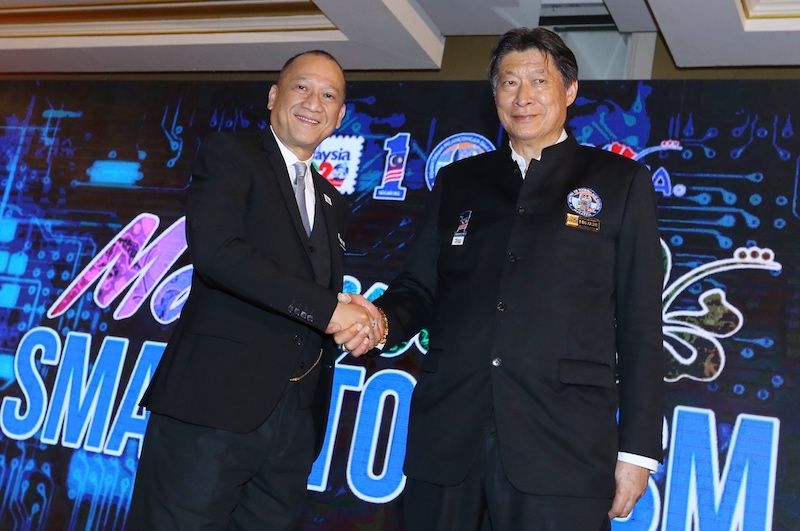 Minister of Tourism and Culture Malaysia Datuk Seri Nazri Aziz and Chairman of the Malaysian Tourism Datuk Siew Ka Wei launch Malaysia Smart Tourism 4.0
in Kuala Lumpur April 5, 2018. — Picture by Zuraneeza Zulkifli
Tourism
Malaysia
and internet company Tencent Holdings launched today an initiative to create a digital tourism ecosystem in Malaysia to attract Chinese tourists.
In his opening speech at the launch of Malaysia Smart Tourism 4.0 Powered by Tencent, Tourism and Culture Minister Datuk Seri Nazri Aziz said the initiative was a game changer which would carry the industry forward.
"The world is now undergoing the so-called fourth industrial revolution which will see growth being driven by huge amounts of data exchange, advancements in technology and the development of high-tech interfaces," Nazri said.
"For the tourism industry, this will have a huge impact on how people travel and in this new demanding environment, tourism-related businesses must either transform the way they operate or lose out on opportunities."
The Malaysian Smart Tourism 4.0 is an initiative that marks the first milestone in Malaysia's 10-year tourism roadmap and is a collaborative effort between Tourism Malaysia and Tencent Holdings.
Tencent Holdings is the fourth most valuable internet company in the world and will provide a digital ecosystem for Malaysia to reach out to the 1.4 billion-strong Chinese population using precision marketing methods like market segmentation and targeted advertising.
A digital ecosystem refers to an interdependent group of enterprises, people and/or things that share standardised digital platforms.
Nazri said that with global outbound tourism numbers expected to reach 1.8 billion people by 2030, now was the time for the country to leverage on the changing environment.
"A huge portion of that number will be tourists from China. In fact, the Chinese made 130.5 million trips overseas last year, a 7 per cent jump from 2016, and spent an estimated US$115.3 billion (RM445.67 billion).
"They account for more than a fifth of the money spent by outbound tourists and twice as much as the next biggest spender, the Americans," he said, adding that 200 million tourists from China would be making outbound trips by 2020.
"The question is how many of them will be coming to Malaysia and how will you make them your customers," Nazri told the audience, which included representatives from various tourist associations.
Tourism Malaysia Chairman Datuk Siew Ka Wei said the initial phase of the initiative would include the joint production of 40 five-minute videos on Malaysia's tourist offerings and make them available to the Chinese market.
"This will include hotels, food and other experiences that will be documented and made available to potential customers who will be able to see for themselves what is available here.
"Together with the participation of key opinion leaders or influencers, who form a key component in generating interest in our offerings, we expect to reach a wide audience effectively," Siew said.
Siew said this was a major project for the industry as millions of jobs will be created, whether "running a coffeeshop to being the general manager of a hotel", with the establishment of the ecosystem.
"The RM425 billion tourist receipts in 2030 will have a tremendous effect on our economy because every ringgit spent will have a multiplier effect of 10 times. The tourism industry will bring in trillions of ringgit.
"We will become the main engine of growth for the country. This is a project for the whole country," he said.
Siew added that as Prime Minister Datuk Seri Najib Razak had made it clear the industry would be a national priority, he encouraged young people to come forward with ideas and take their place in the new environment.
"If the numbers do not change, tourism will become the biggest global industry and Malaysia has all the right assets from attractions to the best people," he said.
"Young people need to come forward and participate. These changes will affect them and it is up to these individuals to come up with ideas that will help Malaysia capitalise on the opportunities that lie ahead," Siew added.
The initiative is expected to increase the country's tourism revenue from RM96.60 billion to RM425.04 billion by 2030, a four-fold increase.
China is an especially important market for Malaysia with 2.2 million Chinese visiting the country, spending an estimated RM9.05 billion last year alone. Malaysia is among the top 10 Asia-Pacific destinations preferred by Chinese tourists.