Enthusiastic Chinese tourists could be in for their best year yet.
China has climbed 10 spots to rank at 75th place in the latest Henley Passport Index, an annual passport ranking by citizenship planning firm Henley and Partners. Published on Jan. 9, the research is based on data from the International Air Transport Association and its own research. According to the index, the ranking is China's highest since 2008. Its lowest rank in the last 10 years was in 2015, when China ranked in 94th place. Chinese tourists can now travel to 65 countries without a visa.
This includes the newly added
United Arab Emirates
, which will no longer require visas for them from Tuesday (Jan. 16). (A separate ranking by financial advisory firm Arton Capital, which provides real-time updates, noted that China added 7 nations that offer visa-free and visa-upon arrival in 2017.)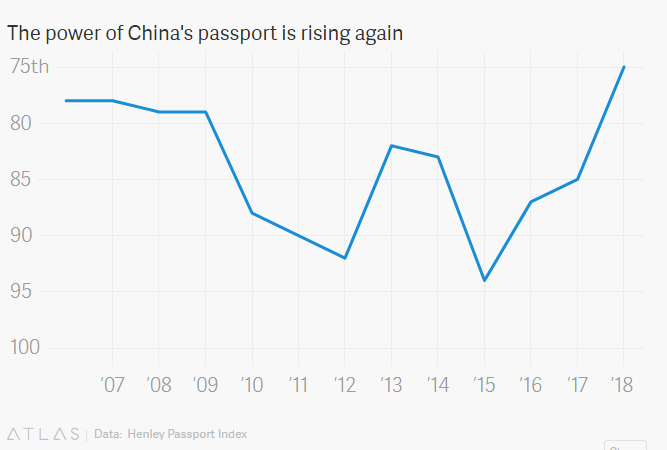 Chinese tourism overseas has become a major force in recent years. And while Europe and South Korea, have long been preferred destinations, countries that have liberalized travel for Chinese nationals have reaped rewards. For example, Chinese tourists flocked to the African country
Morocco
during the week of National Day holidays in October 2016 not long after Morocco stopped requiring visas for Chinese tourists earlier that year. Chinese tourists spent a total of around $110 billion overseas in 2016 — a 5% increase from a year earlier, according to China Tourism Academy, a Beijing-based research institute.
Unusual destinations are growing too. The number of Chinese tourists to Antarctica—where no visa is required—has grown 40 times from 2008 to 2016, and it could cost could at least $5,000 per trip.