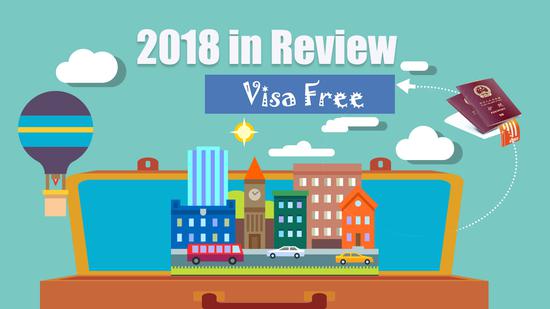 China climbed over 10 spots to rank 71st in the latest Henley Passport Index, which ranks passports based on the number of countries their holders can travel to visa-free.
According to the index, China's ranking this year is the highest since 2008, when the Olympic Games were held in the Chinese capital Beijing. Its lowest ranking in the last 10 years was in 2015, when China ranked 94th.
Chinese travelers can now explore 74 countries without a visa, according to the index.
This year, six additional countries, namely Belarus, the United Arab Emirates (UAE), Albania, Bosnia and Herzegovina, Qatar and Myanmar, issued visa waivers to Chinese tourists.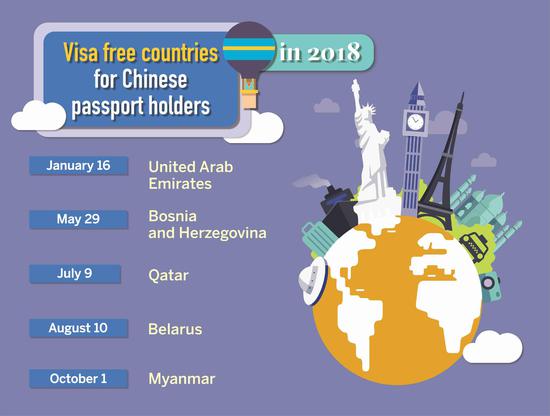 What's in store for Chinese travelers?
1. United Arab Emirates
The UAE began offering visa-free access to Chinese tourists in January.
For most people, the UAE means just one place – Dubai, which transformed from a fishing village to a world-class city with iconic skyscrapers, a palm-shaped island and of course, glamorous nightlife.
However, there's more than just super-tall buildings and year-round sunshine. The country is comprised of seven emirates, including Abu Dhabi, Dubai and Sharjah, and welcomes millions of tourists from around the world every year to explore the rich and diverse experiences that the Arabian gem could offer.
Oil-rich Abu Dhabi, also the capital of the UAE, is just an hour's drive south of Dubai, positioned as a hub for culture, sport and leisure. North of Dubai is Sharjah, which offers fine art and a taste of heritage, while tiny Ajman and Umm AI Quwain provide a glimpse of life in the pre-oil days. For the best swimming and diving experiences, just cross the Hajar Mountains to Fujairah for a dip in the clear water of the Gulf of Oman.
The UAE was one of the top 20 most popular travel destinations for Chinese travelers in 2017, along with Vietnam, Sri Lanka and Russia, according to the China Tourism Academy.
Top sights like Burj Khalifa, the world's tallest building; Burj Al Arab, the world's first 7-star hotel; Jumeirah Beach and the largest indoor theme park on the planet, IMG Worlds of Adventure, beckon visitors.
Tips:
Kissing is a no-no: Avoid smooching in public as this may attract unwanted attention.
Public holidays: Muslim festivals are timed according to local sightings of phases of the moon and government offices and some private companies close for the holidays.
2. Belarus
Chinese tourists are allowed to stay in Belarus for 30 days since their visa-free policy was introduced on August 10. But, Minsk, the country's capital and largest city, is where travelers must land and take off in order to take advantage of the favorable policy.
Summer and fall are the best seasons to embrace the beauty of this Eastern European country. The capital has a seething nightlife, excellent museums and an impressive ensemble of Stalin-era architecture. It has also gradually become a hub for global summits and sporting events.
The cosmopolitan border town of Brest looks far more to the neighboring EU than it does to Minsk. The city's main sight is the Brest Fortress, a vast and moving WWII memorial. Museums and a few attractive churches are also worth visiting.
Tips:
Accommodations: In 2017, Minsk was rated the cheapest destination in Europe; accommodations are really inexpensive.
3. Albania
Chinese tourists enjoyed visa-free access to Albania during the peak tourism season, which fell between April 1 and October 31.
Neighboring Greece, Albania has long been an enigma in Mediterranean Europe. Its stunning mountain scenery, crumbling castles, boisterous capital and dreamy beaches continue to enchant visitors.
Top attractions like Ksamil, a little sea village just an hour from Greece, offer you turquoise water, fresh seafood and hospitality beyond compare. Gjirokastra's eerie hilltop castle, which once served as a prison, is one of the biggest in the Balkans.
Tips:
WiFi is scarce: Internet is very hard to find in Albania. Hotels do not offer it freely and a lot of the time you'll go days without it.
Weather alert: From December to February severe weather may cause flooding, particularly in northern Albania.
Another country on the Balkan Peninsula, Bosnia and Herzegovina, has offered visa-free access to Chinese tourists since May 29, 2018, while Myanmar has provided visa on arrival since October, Qatar and China started mutual visa exemptions starting from December 21.
What do figures say?
By far, 74 countries have opened their door to Chinese tourists, including 12 with mutual visa exemption agreements like Mauritius, Serbia and Barbados.
Figures from the China Tourism Academy show that over 120 million Chinese people have passports and the number is expected to double by 2020.
In 2017, Chinese travelers took 130 million trips abroad, spending more than 11 billion U.S. dollars, and helping China remain the world's leading outbound tourism country.