It is very difficult to find a Chinese tourist in
Uganda
. Most of the Chinese come for business or have migrated with family.
And yet, the UN World Tourism Organisation says China has been a leading outbound tourism market since 2012. In 2016, Chinese outbound travellers increased to 135 million, spending a whopping $261 billion.
But Uganda, which has plenty of natural attractions, is barely tapping into that large market. The country has the largest population of mountain gorillas in the world; and up to 60 per cent of the bird species found in Africa.
The country has chimpanzees, the big five animals (elephants, rhinos, buffaloes, lions and leopards) the source of the Nile, waterfalls and rapids, rare butterflies, hot springs and an incredible landscape with amazing flora.
The biggest challenge is how to bring to attention Uganda's potential to the Chinese tourist. One of the people wrestling with this question is Sandra Rwese, who runs a tourism advisory firm, Gulu and Hirst.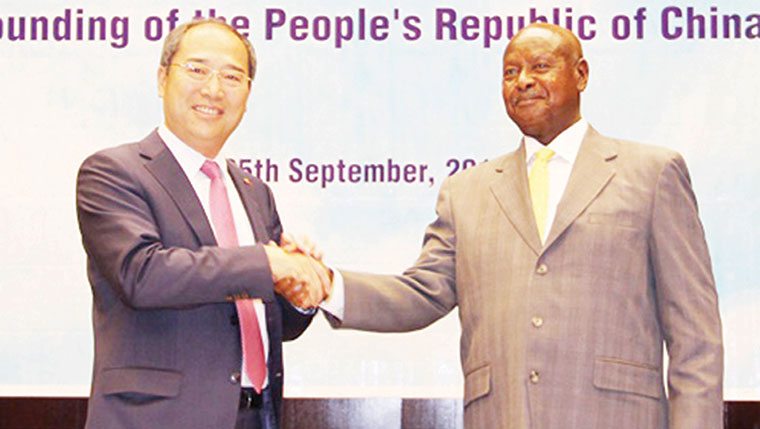 President Museveni and Chinese Ambassador to Uganda Zheng Zhuqiang
Rwese, who speaks Mandarin, spent almost two years in mainland China and Hong Kong. When she returned to Uganda in 2014, she started Gulu and Hirst to help businesses understand digital marketing to China and cross-cultural nuances that will help them be more Chinese-friendly. China, she felt, was a huge market that businesses were not fully benefiting from.
In her interactions with tour agents operating here, Rwese found that most agents understand how to attract the tourists from the West but cannot market to the East.
"They need to understand even the simplest things like sending itineraries in four minutes and not four days," she said.
One would think that because she is one of the few local experts on Chinese tourists, stakeholders in the tourism industry would be lining up for her services. But that is not the case.
Business remains slow as very few companies are willing to invest in consulting services and even less will spend on a strategy targeting what looks like a slow market.
The number of Chinese tourists coming to Uganda is very low, according to anecdotal accounts. Figures on their exact numbers are as elusive as the travellers themselves; there are no industry statistics breaking down the number of arrivals from China.
Joseph Cui, a Chinese tour operator in Uganda, estimates that for the 69,000 Chinese tourists that arrived in neighbouring Kenya in 2016, Uganda received only 100 in the same period.
"For example, only 18 Chinese came last year for chimpanzee tracking," he says.
Cui is the proprietor of Albatross Travel and Safaris, an agency he started this year to market Uganda, which he thinks is "a splendid place with good weather." He, like most of his countrymen here, first came to Uganda on business.
"I came for about a week in 2009 for a meeting."
He returned in 2011 to work with a telecommunications company. But now, with Albatross Travel and Safaris, he only works as a part-time consultant with Smart Telecom.
Cui and Rwese both tell of frustrating engagements they have had while trying to help the tourism industry understand Chinese visitors. Tour companies do not see the value of having Mandarin-speaking staff, while government agencies fail to target the Chinese market correctly.
This is unlike other African countries such as
South Africa
, where the tourism ministry last year trained staff from selected hotels in Mandarin and Chinese cultural norms. They also relaxed their visa process and the minister, Derek Hanekom, traveled to China and India to reassure travelers on South Africa as a travel destination.
Kenya has also increased their Chinese visitors with direct flights between Guangzhou and Nairobi.
According to the recently released Forward Keys report, Chinese arrivals to
Morocco
and
Tunisia
increased by 450 per cent and 250 per cent respectively in the first half of this year because of visa exemptions for Chinese travelers.
To tap into this, marketing strategies in the industry will vary. You cannot hope to attract a Chinese tourist using a Facebook or Instagram post. Many social media platforms – including Snapchat, Pinterest, WhatsApp, Google – are all banned in the country.
According to the Hurun Report, The Chinese Luxury Traveler 2016, WeChat is the go-to source of information for travelers. The tour agent here has to rethink their marketing strategy and invest in QQ, WeChat, SinaWeibo and Baidu (the search engine) for digital advertising.
Once these are understood, the worry will only be what to do with all the bookings. The Hurun Report found that there were few- er tourists to Japan, once a favourite destination, and now there was 179 per cent more interest in Africa as a tour destination.
China has a population of over 1.3 billion. Even if not all of them can travel, those that would are still too many for Uganda.
"Where are you going to accommodate them? Where will sufficient bottled drinking water come from? There are only about 40 Ugandans who are proficient in Mandarin; so, how will companies resolve this staff shortfall?" she asks.
Rwese is especially cautious of the management of the groups coming in because of the kinds of scandals they have been associated with.
Countries like Namibia have seen an increase in rhino poaching, which has specifically been blamed on the increase in Chinese population in the country. The Chinese government has had to commit to working with the African governments to curb the problem. Namibia has a population of about 100,000 Chinese.
"They can also just take over an entire industry. Chinese investors are smart, quick and loaded with state-funded business loans. They will open luxury parks here, build them with material imported straight from China, and hire their people for mid-level to managerial positions," she warns.
So, even as she works to open the borders to the tourists from the East, Rwese wants to remain cautious.
Her advice is to "focus on millennial groups, 16 to 26 years" as they are "more likely to champion conservation efforts."
So, the emergency to Uganda tourism now is to find an efficient way to attract Chinese tourists. For example, promoting on social media like Wechat. If you are now in the same position as Uganda tourism, you're welcome to contact us, and we can help you out.