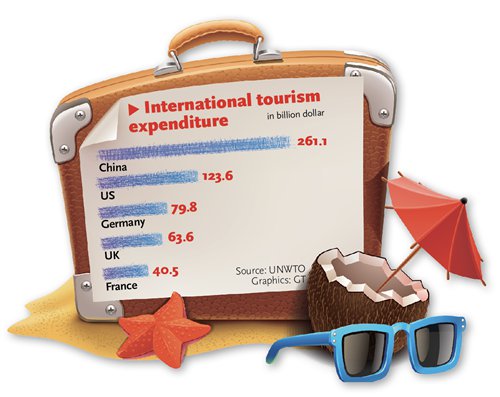 Rising spending power can lift SE Asia, B&R markets
China remains the driving force for the global tourism industry, as the number of outbound Chinese tourists and their spending power continue to rise, though at a more moderate pace, recent data showed.
Changes in the demographic and spending habits of Chinese outbound visitors could benefit developing countries in Southeast Asia as well as those along the Belt and Road (B&R) routes, experts pointed out on Tuesday, a day ahead of World Tourism Day.
In the first half of 2017, total outbound trips from the Chinese mainland reached 62.03 million, up 5 percent year-on-year, according to data released by the China National Tourism Administration (CNTA) in August.
While the rate of expansion slowed from about 10 percent in recent years, it was still enough to help the global tourism sector achieve strong growth.
According the UN World Tourism Organization, in the first half of 2017, the number of global tourists reached 598 million, increased 6 percent on year-on-year basis.
Chinese travelers accounted for about 10.4 percent of the total, according to the organization.
The spending power of Chinese outbound tourists remains strong this year, according to Su Qiang, vice president of cross-border business at Ant Financial, the financial affiliate of Alibaba Group. So far this year, Chinese visitors have spent $315 billion on overseas travel, Su told the 2017 Global Smart Tourism Ecosystem Summit in Beijing on Tuesday.
Though the spending growth of Chinese tourists is set to cool from the annual rate of 20 percent in the past seven years, it will remain strong in 2017 with an expansion of 12 percent expected, according to a report from the World Travel and Tourism Council.
Changing trends explain the cooling, experts said.
"The 1980s and 1990s generations are becoming the mainstay of outbound travel ... unlike previous generations, they're more careful about how they spend," Wang Xinjun, CEO of Ivy Alliance Tourism Consulting, told the 2017 Global Smart Tourism Ecosystem Summit.
"Chinese tourists are spending relatively less on luxury goods and more on daily necessities and their choices are more practical," Jiang Yiyi, director of international tourism development at the Beijing-based China Tourism Academy, told the Global Times on Tuesday.
Chinese tourists are also shifting from "been there" to itineraries that offer in-depth experience or special themes, Zhang Lingyun, director of the Tourism Development Academy at Beijing Union University, told the Global Times.
Wang also believes that more Chinese tourists prefer customized and high-quality travel experiences.
That could mean opportunities for not only popular destinations such as Thailand, Europe and the US, but other and lesser-known countries, including those in Southeast Asia and along the route of the B&R initiative, experts said.
There are already signs of that happening. While Thailand, Japan,
the US
,
the UK
and Australia remain top destinations for outbound Chinese tourists, countries such as Russia,
Morocco
and Cambodia are rising, according to the China Tourism Association (CTA).
In the first half of the year, the number of Chinese tourists to Morocco increased 600 percent on year-on-year basis and visits to Russia increased 36 percent, the CTA said in separate posts on its website.
Chinese tourist arrivals in Cambodia in the first seven months increased 42.7 percent, the Xinhua News Agency reported on Tuesday.
"Chinese tourists are still visiting nearby countries as their first choice, because those trips are convenient and not necessarily tedious," Jiang said, adding the number of long-distance trips is also increasing rapidly.
As China continues to strengthen cooperation with countries and regions along the B&R initiative routes, Chinese travelers to those destinations will also increase, according to the CNTA.
In a post published in May, the CNTA estimated that the number of Chinese visitors to the B&R countries will reach 150 million by 2020 with expenditure of $200 billion.