Wines of Germany Presents the Second Annual Riesling Week
Wines of Germany Presents the Second Annual Riesling Week
Just in Time for Summer, Experience Sommeliers' Favorite White Wine at Restaurants Coast-to-Coast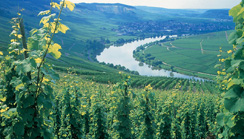 Nothing is as refreshing as a crisp German Riesling to compliment a warm weather meal, and just in time for summer sipping Wines of Germany presents the second annual Riesling Week. For seven days, from June 5th-11th, restaurant-goers can experience a special selection of German Rieslings by-the-glass during this unique tasting opportunity.

The versatility of German Riesling makes it easy to pair with almost any dish and sommeliers consistently select German Riesling as their first choice for white wine. Perfect for spring and summer, the refreshing flavors and minerality of German Riesling makes it the ideal wine on a warm day.

German Rieslings are the most versatile and food friendly wines in the world, said Paul Grieco, Managing Partner and Wine Director at Restaurant Hearth in New York City. We are delighted to be participating in Riesling Week again.

This June, consumers can discover the unrivaled quality of the unique German Riesling grape first-hand by dining at participating restaurants in New York, San Francisco, Las Vegas and Chicago. Riesling Week promotions will vary around the country, including special food and wine pairings, tasting menus, flights and by-the-glass selections.
eTN
Please
contact us
in case of Copyright Infringement of the photo sourced from the internet, we will remove it within 24 hours.