Chinese shoppers spend millions at Selfridges as thousands queue through the night for Boxing Day bargains across Britain
Chinese visitors were predicted to be the biggest spenders at Selfridges, shelling out nearly £1,400 on each transaction on the Boxing Day.
• Thousands of shoppers queued outside branches of Next around the
UK
before the shops opened at 6am.
• Queue at Selfridges began at 11.30pm yesterday with international shoppers desperate for deals on luxury goods
• Chinese visitors were predicted to be the biggest spenders, shelling out nearly £1,400 on each transaction
• Customers at
Harrods
entertained by circus acts and butlers handing out gourmet snacks
• But the sales started yesterday with retail websites believed to have received 117million visits on Christmas Day
Overnight queues, pandemonium, and even the odd punch-up – chaotic scenes played out across the country as a huge influx of shoppers, many from the Far East, flooded the Boxing Day sales.
Some of the shoppers, many of whom travelled to the UK especially for 'sales holidays' from China, the Middle East, Russia and Nigeria, had been queuing from as early as 11pm on Christmas Day.
As the doors opened at 9am at Selfridges in London, security guards urged them to 'keep calm', shouting 'there are old people and children in the queues, please stop pushing' and 'take your time, you will all get in, don't panic'.
Manic bargain hunters were seen grabbing armfuls of £1,000 Prada, Gucci and Mulberry handbags and shoes and running to the tills to secure their purchases.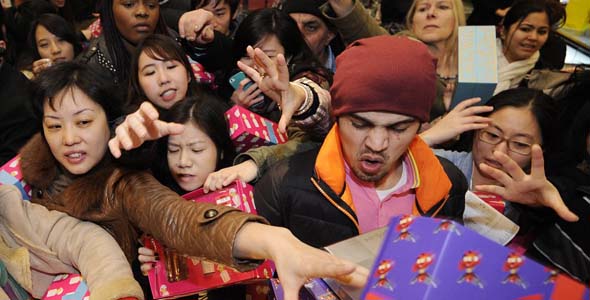 Many foreign tourists were among the bargain-hunters who squeezed into Selfridges on Oxford Street on the Boxing Day.
Within 15 minutes, the shelves of Victoria Beckham and Stella McCartney and Givenchy bags and purses were bare.

For the first time, uniformed police officers patrolled inside the store in a bid to deter shoplifters, pickpockets and gangs, which have previously targeted the sales.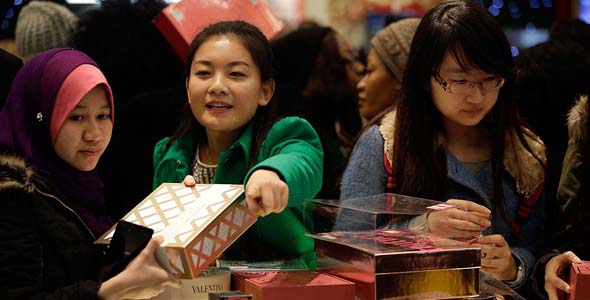 Shoppers inside Selfridges took advantage of a rare opportunity to pick up discounted goods
And there were reports of physical fights over sale items, while one woman in Manchester was treated by paramedics after she fainted in the queue for Next.
Constable Alistair Davies, with the Metropolitan Police, said: 'We are here to help with crowd control.' But a security officer said: 'They are here to stop the gangs.Yesterday, Chinese shoppers outnumbered any other nationality across Britain's designer department stores. They and shoppers from Kuwait top the UK's list for tax-free spending in the UK.
Selfridges was a particular target for visitors, with shoppers there – mostly from the Far East – spending £2million within the first hour, with 4,000 people having queued outside ahead of its opening.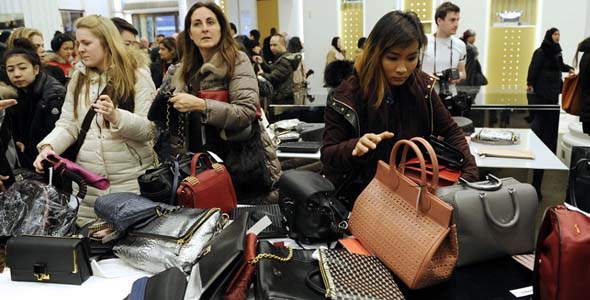 Shoppers snapped up pricey handbags and other high-end items which had been heavily discounted
Designer bags such as Gucci, Mulberry or Givenchy would cost Chinese four times as much in their home country, due to high taxes on overseas goods.
Huihui Hailin, 44, flew in especially from China and spent £3,400 in the Harrods sale, including £1,200 on a Lanvin dress and £600 on an Alexander McQueen handbag. She said: "They were both nearly half price, it is unreal."
Singaporean student Isabel Chew, 20, said: "You can hardly move. It is worth it though. The sales are the best in the world."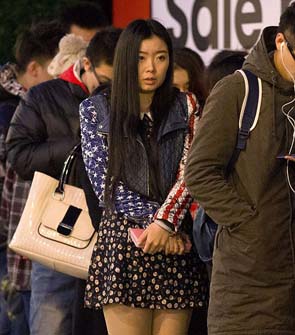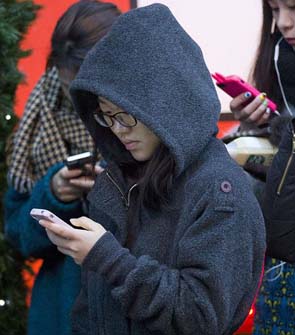 Some of those who waited outside Selfridges for hours overnight appeared to be suffering in the cold weather.
A spokesman for Selfridges said that the queue for the sales began at 11.30 last night - more than nine hours before the doors opened to customers.
Related News in Chinese:
外媒称圣诞节次日大减价 中国土豪"买起"伦敦