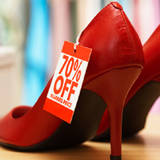 Outlet shopping was slow getting off the ground in the
UK
but it has taken off and spread like wildfire recently. Discount designer outlets, factory outlets and brand outlet shopping malls have sprung up all over the UK.
There are some excellent buys out there and, if you don't mind buying things that are six months to a year behind the leading edge fashions, you can do very well.
Do you shop on vacation? Scroll to the end to take The Shoppers Poll

Discount outlet malls have anywhere from 30 to more than 100 stores, usually a mix of men's, women's and children's fashions, shoes, accessories and jewelry, luggage and handbags, sporting goods, toys, electrical goods, housewares and linens and, occasionally sweets, dried fruits and nuts. They usually have inexpensive restaurants and coffee shops. A few have extra destination features like landscaped gardens or proximity to local attractions.
Let the Buyer Beware

Obviously, the same sale shopping precautions apply in UK discount outlets as they do anywhere else:
·Don't get carried away by the sale atmosphere. If you've ever opened your closet, looked at your bargain booty and wondered, What was I thinking!, you know who you are.
·Remember that promises of 50 to 70% off are usually off recommended retail prices [rrp] and in a lot of cases the rrp is wishful thinking on the part of the manufacturer rather than what you might pay in normal stores.
·Examine items very carefully. Seconds should be so marked, but they aren't always. Make sure that the condition of what you buy is acceptable to you because most UK discount and designer outlets have a no return policy.
And there's one more caution. Several of the UK discount outlets are part of multiple operations with the same shops cropping up again and again. Just as ordinary shopping malls have their cast of the usual suspects of global brands, the UK discount outlets have an assortment of regulars all over the country.
Some are outlet branches of popular high street brands and some malls, like Bicester Village, feature an impressive range of genuine luxury brands. But be aware that a range of brands has developed that only seem to crop up in the world of UK discount outlets. There's nothing really wrong with that. It's just something you should know when you are considering the "bargains" on offer.
With that in mind, here, by UK region, are the most popular discount and designer outlets. Most are open seven days a week, every day of the year except Christmas, but check their websites for hours, store lists and directions.