Chinese Tourists Bring Boon to Soweto Economy
Brief:
In recent months, and more especially in the past year, South Africa¡¯s largest trading partner, China, has also been one of the foremost contributors to the country¡¯s tourism sector.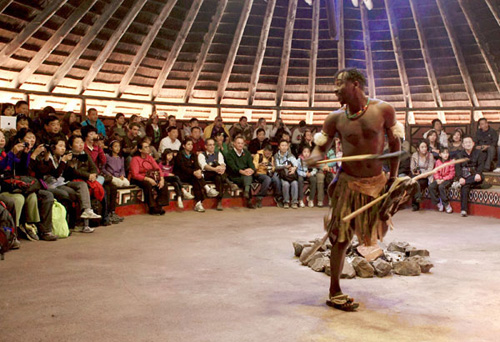 Chinese tourists watch ethnic dancing in the suburbs of Johannesburg, South Africa.
Many African countries are largely reliant on tourism as a form of foreign currency income earner and for job creation. South Africa is no different. In recent months, and more especially in the past year, South Africa's largest trading partner, China, has also been one of the foremost contributors to the country's tourism sector. Chinese tourists have been steadily streaming into the country with tourism experts predicting that they will most likely result in a boon for a sector that has been hard hit by, among other things, stricter visa regulations imposed by the South African government. This, however, has not deterred Chinese tourists from coming into the country for both pleasure and business.

One of South Africa's most famous tourist destinations is Vilakazi Street in Johannesburg's biggest township of Soweto. It is the only street in the world on which two Nobel Prize winners, the late Nelson Mandela and Archbishop Emeritus Desmond Tutu lived. In fact, locals in the street say that the archbishop still lives there, and can be seen taking a stroll in the street when he is in town. Taking my own walk on the famous street, I was lucky enough to come across a contingent of Chinese tourists being ably assisted by Soweto based tour guide Qiniso Ndlovu. He said, on average, he takes about five different Chinese groups of various sizes on tour of Vilakazi Street and Soweto in general. "Most of the Chinese are awed by the fact that they are able to visit what used to be the home of perhaps the world's greatest statesman Nelson Mandela, which is now a museum. Almost all of them tell me that they feel a certain kinship to Mandela and will be visiting again soon. Some have even gone on to say that they would love to set up shop in the area so that they can be part of the great inspirational man. I cannot begin to imagine what this would do to boost the local township economy as well as the country's economy in general. The Chinese have already contributed a lot by supporting small businesses who sell traditional African merchandise and memorabilia," he said.

Ndlovu told a story of one Jason Zhu who, he said, had kept in touch with him even after he had gone back to mainland China. According to him, Zhu had been a regular visitor to Vilakazi Street and had also been to the Hector Peterson Museum which is a shrine dedicated to the selfless efforts of students killed during the June 16 1976 Soweto Students' Uprising. On his last visit, in November 2016, Zhu told Ndlovu that he had decided to come and settle in Johannesburg permanently. The only drag, at the moment, was that processing the necessary paperwork was taking a bit too long. "At this point I am not sure what he intends to do when he comes back because I understand that he has a stable job back home. Most Chinese people come to South Africa to open businesses and I hope Jason will do the same and create jobs for many unemployed youth in our community and elsewhere. Jason was visibly animated when he told me of his intentions and I hope he won't be long coming back because God knows that South Africa needs more tourists like him who can come and invest in the township economy," he pointed out.
¡¡¡¡Source: CRIENGLISH.com
¡ñ Relevant Information
Recommended Destinations,Tourist Attractions & Incoming Service Providers
E-marketing, Workshops, PR Events, Special Campaigns in China
Sharjah delegation holds workshop in China to dig deeper into Chinese travel market
Most Cost Effective E-marketing to the Entire Outbound Travel Trade:
Weekly Newsletter Summarizing News and Key Events Related to Outbound Travel From China ,
Customized E-shots Featuring New Clients or New Activities From Existing Clients
Fam Trips and Hosted Buyers:
Professionally translating;
innovatively designing