Hainan Israel says demand is strong in both Israel and China on the line, which was launched in April.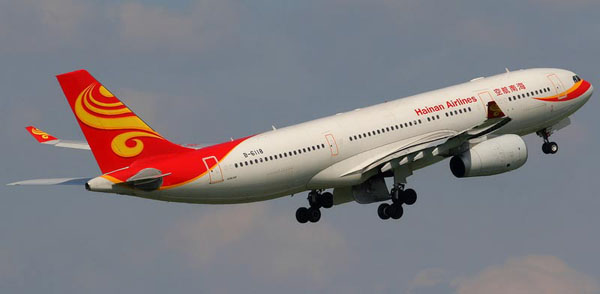 Hainan Airlines is adding another weekly flight on its route to Israel. The Chinese airline, which began flights on the Tel Aviv-Beijing route in April 2016, currently operates three weekly flights to Israel on Sunday, Tuesday, and Thursday, to be increased to four in November. The new flight will be on Mondays.
Tickets will be offered for $550 on certain dates (November 3, November 7, and November 10). The usual price for tickets starts at $600 for tourist class and $2,400 for business class tickets.
The company's passengers consist of 70% Israelis and 30% Chinese. The Ministry of Tourism and the others dealing in the sector have set a goal of increasing the number of Chinese tourists visiting Israel, currently less than 50,000 a year - the potential is enormous. Hotels are preparing for Chinese guests by adapting their rooms and menus, and the tourist websites will have information translated into Mandarin Chinese.
Hainan Israel general manager Li Liang said, "The expansion of our activity to an addition flight on the Israel-Beijing route constitutes a significant vote of confidence by the company headquarters in activity in the Israeli market. Demand in China is surprisingly good, and the same is true of demand from Israeli passengers. We are benefiting from flourishing relations between Israel and China, reflected in a marked increase in traffic between the two countries, which is projected to continue. Competition is intensifying, and it is therefore necessary to continue adapting the product to the market's needs. We hope that this is the first sign of a future substantial expansion in our business in Israel."
Hainan also announced the launching of a limo service in Israel for business class passengers, a service that already exists in Beijing and other company stops around the world. The service, which is available free of charge (for three ticket classes) in business class, and can be ordered in advance, includes collection from the airport and transportation to destinations from Beer Sheva in the south to Haifa in the north, and from those stops back to Ben Gurion Airport.
Hainan, the largest private airline in China, is part of the HNA holding group. The airline has a fleet of 161 planes, and flies to 70 destinations in China. Its main hub in in Beijing, and the company provides connections to internal flights in China, and to international destinations.