Chinese tourists spent more than $215bn on foreign travel in 2015 — 53 per cent more than the previous year — becoming the world's largest outbound tourist group.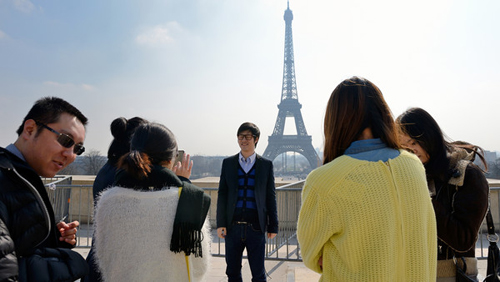 France and Japan are the most popular global destinations for affluent Chinese millennials who value cultural sophistication and high-end shopping, according to a report on luxury travel.
Chinese tourists spent more than $215bn on foreign travel in 2015 — 53 per cent more than the previous year — becoming the world's largest outbound tourist group, according to the International Tourism Organization.
According to the report on affluent Chinese travellers born after 1980, the Hurun Report, which publishes the annual Hurun China Rich List, found that foodies ranked Japan highest, while France was viewed as a "shopping paradise". Australia was the third most popular foreign destination.
The report is based on a survey of 525 young luxury travellers, defined as those who spend over Rmb200,000 ($30,400) annually on travel and tourism. More than half are second generation of a wealthy family or heirs to a family business.
"I often use the word 'picky', but one could also say 'spoiled'," said Rupert Hoogewerf, publisher of the Hurun Report.
Survey respondents spend an average of $64,000 on travel per household, of which retail accounted for $33,000. Clothing, bags, watches and jewellery are the most popular items. Their average hotel budget is $470 per night. Local specialities, electronics and alcohol were less sought after.
The Chinese international travel boom has so far largely escaped the impact of the Communist party's anti-corruption campaign, but luxury goods producers have felt the impact through slowing sales.
Wealthy young Chinese travellers want to receive travel information through WeChat, the popular mobile messaging app run by Tencent Holdings, and prefer internet-based concierge services from hotels over picking up the phone. In fact, WeChat dominates overall mobile phone usage for this cohort, ranking ahead of viewing photos and videos, browsing, email and shopping.
"It's the combination of digital with personalisation. Travellers want butler-level service, but facilitated by a digital experience," said Peggy Fang Roe, chief sales and marketing officer for Asia Pacific at Marriott International, which sponsored the report.
Marriott began accepting Alipay, the mobile payment service run by Alibaba Group's financial affiliate, in its China hotels and some international locations this year. The company will open a Bulgari-branded hotel in Shanghai in 2017, adding to its existing portfolio of 91 China properties, including 21 in the luxury category.
Ms Fang Roe said that the company's non-Chinese hotels saw a 25 per cent annual rise in Chinese travellers in the first quarter this year.
But few rich Chinese millennials participate in hotel rewards programmes, creating opportunities for luxury operators. Rewards programmes are a vital revenue driver for global hotel brands, which avoid paying commissions to online travel websites for travellers who book rooms directly from the hotel's own website or reservation hotline.
China is a major focus for global luxury brands. China had 3.14m dollar millionaires by the end of last year, up 8 per cent from 2014, Hurun said in January.
Moët Hennessy will reveal a new high-end wine next week produced in Adong, an area perched 2,600m above sea level on the edge of the Tibetan plateau, one of the remotest places on earth.