A high school teacher from Zhengzhou, Henan Province, wrote only one sentence for her recent resignation letter: "The world is so big, and I want to have a look."
Her poetic and inspiring words received millions of comments online, an indication of the growing number of Chinese who now have the time and money to travel around the world. And they are doing it. In 2014, over 100 million Chinese traveled overseas, 10 times more than figures reported in 1998.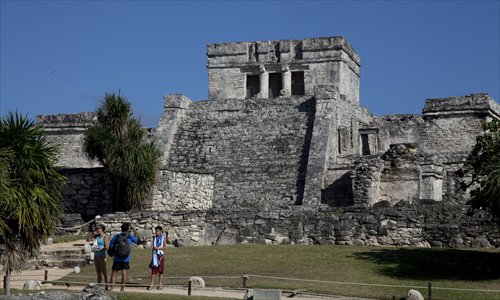 Noting this growing trend, the Consulate General of Mexico in Shanghai recently hosted a seminar for local tourism industry agencies to promote Chinese tourism to
Mexico
.
"Mexico has thousands of years of culture and history. A total of 31 Mexican tourism attractions are listed among the UNESCO world heritage sites, ranking sixth among all countries," Gabriel Terres, the deputy consul general of Mexico in Shanghai said at the seminar.
The country's unique tourist destinations, such as the 14th-century Aztec temples, and diverse landscapes, ranging from the white-sand beaches of Cancun to the Copper Canyon of Chihuahua, attracted over 29 million international tourists to Mexico in 2014, a year-on-year increase of 5 million. Mexico is among the top 10 most popular tourism destinations elected by the World Tourism Organization.
As Chinese outbound tourism booms, the Mexican government is trying its best to improve its tourism services for Chinese travelers. It intends to increase the number of Chinese speaking tourist guides, simplify the visa process and provide Chinese food at major tourist attractions.
"From April, the number of direct flights from Shanghai to Mexico increased from two flights a week to three. And since last year, the direct flights from Tokyo to Mexico has increased to four per week," Tao Lili, the sales executive of AeroMexico told the Global Times.
Shanghai Eastern Air International Travel Service has been running a tourist route to Mexico and Cuba for over 10 years. At first, only four or five Chinese tourists visited Mexico with them every month because of the distance. Now, they have at least three monthly tourist groups that visit the two countries. These new explorers are well-educated and go primarily for the South American history and culture, such as the ruins of ancient Mayan and Aztec civilizations.
Last year, approximately 76,000 Chinese tourists visited Mexico, up 58.3 percent from 2012 to 2014.
"Since China opened the gates to outbound tourism in the 1990s, Chinese tourists have visited many countries all over the world - they have been to the U.S., Europe, Australia…" Shi Geqiong from the America, Africa and Middle East Department at Shanghai Eastern Air International Travel Service told the Global Times. "Now they are looking for new destinations, so Central and South America will be the next trend."