Universal Tourism Exhibition (UTE) is a large outbound tourism trade platform organized by Beijing Golden Sunshine Conference and Exhibition Company. UTE each held once a year in spring and autumn, is an itinerant exhibition, each exhibition will run for two days, in Beijing and Shanghai or in Beijing and Guangzhou.
UTE2014 Autumn
will be held on 18 November in Guangzhou and 20 November in Beijing, UTE2015 Spring will be held on 27 April in Beijing and 29 April in Shanghai.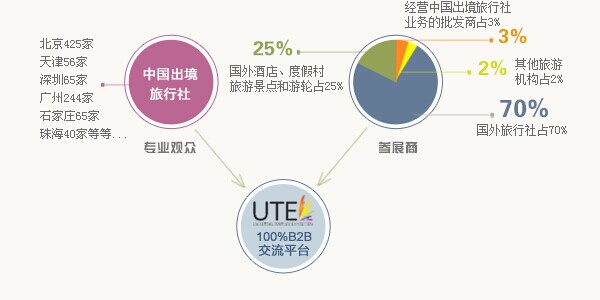 The exhibition is designed to become a B2B platform for Chinese outbound travel agencies and overseas inbound travel agencies, hotels, resorts, scenic spots and cruises. Overseas travel agencies account for 70% of the participating parties, overseas hotels, resorts, cruises and scenic spots account for 25%, wholesalers of Chinese outbound travel agencies account for 3% and others related tourism account for 2%. Chinese outbound travel agencies can attend the exhibition at no cost.

Travel agency representatives come from more than 60 countries and regions, such as the United States, South Korea, Australia, Maldives, the United Kingdom, France, Italy, Switzerland, Hong Kong, Thailand, Malaysia, Singapore. The exhibition will provide a communication bridge between domestic outbound travel agencies and overseas inbound travel agencies, hotels, scenic spots, resorts and cruises.

UTE has many Chinese outbound travel agency resources, including 510 in Beijing, 45 in Shijiazhuang, 60 in Tianjin, 45 in Xi'an, 130 in Jinan, 50 inTaiyuan, 25 in Lanzhou, 45 in Harbin, 50 in Changchun, 120 in Shenyang, 50 in Hohhot, 32 in Urumqi, 10 in Lhasa, 13 in Yinchuan, 315 in Guangzhou, 80 in Shenzhen, 50 in Zhuhai, 50 in Nanning, 110 in Wuhan, 178 in Hangzhou, 128 in Shanghai, 42 in Kunming, 49 in Changsha, 55 in Fuzhou and so on.