Fam Trip of Chinese tour operators and travel media to Rwanda helps to promote the African destination in China
At the invitation of
Rwanda Development Board
, the leading Chinese outbound tour operators and well known travel media from Beijing, Shanghai and Guangzhou joined a Fam trip to Rwanda from June 26th to July 2nd. The Fam Trip gave them an insight into Rwandan tourism resources and colorful cultures, as well as an opportunity to communicate face to face with local tour operators in Rwanda and other part of Africa during the unique Gorilla Naming Ceremony event at the Volcano National Park close 3 hours from capital Kijali.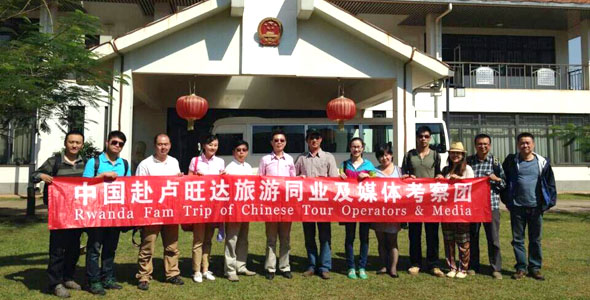 Chinese tour operators and travel media took a photo with
the Charge d'Affair(the 6th from the left) inside the Chinese Embassy in Rwanda
Best Recommended in Rwanda:
Trekking & to be "shocked" by mountain gorillas getting on with their daily activities in full view of human visitors

Rwanda is known as "the land of a thousand hills" hence blessed with natural beauty and plenty tourism resources. In Rwanda, visitors can trek the endangered mountain gorillas in the Volcanoes National Park where visitors are surprised to be literally an inch away from the intimating Silverback Mountain gorillas who are leading their own families deep in the jungle hence each visiting group of no more than 8 people have to be escorted by trained rangers with machete to cut through dense bushes and real riffles in case to come face to face with buffalos that are also living in the same jungle. While most visitors become ecstatic when coming face to face with families of gorillas, the endangered prime mate with 96% DNA to humans hardly pay any attention to curious visitors. They carry on eating, or youngsters simply being naughty and playful with their siblings or mother who may continue having a nap then they move on to find new territorial with herd of visitors trekking behind them still fascinated. They have good reason to be fascinated because mountain gorillas can not survive in Zoos thus, the only chance to see them is in their natural habitat by trekking in the mountains.
Gorillas in Rwanda


Visitors are astonished by within
touching distance with different families of gorillas getting on with their life in the jungle
For those less adventurous or less bodied in trekking after mountain gorillas one can see other prime mates and monkeys "flying" between trees nigh up in the famous Nyungwe National Park where you can experience the Canopy Walk 70 meters above the valley. It can be real fun even for those with fear of height especially when you realise you survived without fallen to the valley as the walking bridge is made of safe metal mesh though a bit wobbly but surely safe despite the mesh giving perfect impression of walking high up in the air with sounds of various rare birds and fighting sounds of monkeys who like pee on you if you walk under the trees so still better to be high above the trees. If monkeys can jump from one tree top to another without any safety net we can walk through the Canopy - can you?!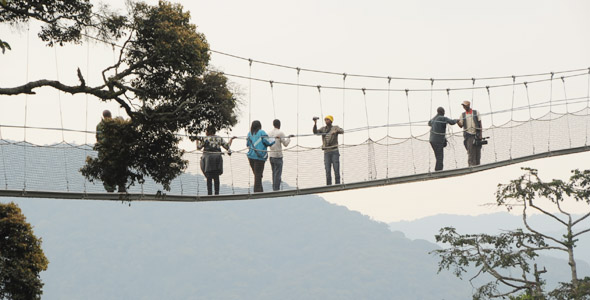 Canopy Walk in Nyungwe National Park
Of course, for those expecting conventional safaris in Africa, Rwanda has its own Akagera National Park on the east of the country bordering with Tanzania thus, you can enjoy similar stunning natural landscape and at least big 3.
Where there are maintains there must be water. Thousands hills also create beautiful lakes. Comparing to famous Victoria Lake Rwanda has equally beautiful Lake Kivu which is also rich with plenty fish hence gives visitor reason to try some local cuisine and drinks.

This Fam trip helped the Chinese tour operators to experience various tourism resources and visiting attractions as well as accommodation facilities and trying out different itineraries hence enabled Chinese tour operators to create customised packages to suite the requirement of Chinese visitors.
The 10th Anniversary of the Rwanda Gorilla Naming Ceremony

The Chinese travel media were also in for a treat when the delegation was invited to attend the annual Gorilla Naming event Kwita Izina. The 10th Anniversary of the Rwanda Gorilla Naming Ceremony on July 1st, Rwandan National Independence Day along with the Gorilla Naming Ceremony was celebrated at the foothills of the Virunga Mountains.
Rwandan Prime Minister attending the
Gorilla Naming event Kwita Izina
Tens thousands of attendants at
the Gorilla Naming Ceremony
| | |
| --- | --- |
| | |
| Dr Adam Wu, COO of CBN is presenting gift of Chinese painting with the Great Wall of China to the Head of Rwandan Tourism, Ambassador Yamina | Singing and dancing performence at the Gorilla Naming Ceremony |

Dr Adam Wu, the COO of China Business Network, represented the Chinese delegation named one of the babe gorillas "Wang-da" which is part of the country name Rwanda in Chinese with meaning "Growing prosperity". For easy remembering he gave the babe gorilla a nickname "Wang Wang" which means "double prosperity" in Chinese, by which he certainly wished Rwanda and Rwandan people growing more and more prosperous! In addition, Dr Adam Wu donated money to buy 88 pairs of Gum boots in order to protect the mountain gorillas as well as making visitors more comfortable to trek without worrying about cross contamination from the jungle. He presented a Chinese ink painting as a gift to the Rwanda Tourism as well.

Delegation of Rwanda Fam trip of Chinese tour operators and Media,
CEO of RDB Ambassador Valentine and other officials of RDB at the Gorilla Naming Ceremony
Kwibohora 20 and Global Umuganda

The Rwanda Fam Trip was coincided with Kwibohora 20 this year. One of these activities for Kwibohora 20 is Global Umuganda - a day to join hands and help make their communities a better place for all. Umuganda is about coming together to improve the world around the Rwandan people, whether for their street, town or country.
The Chinese Fam trip group was invited to attend the event and they participated in building houses with the locals for the homeless refugees. At that time, no one is a Hutu or Tutsi; there are only Rwandans who remember yesterday, cherish today and hope for tomorrow!
| | |
| --- | --- |
| | |
| Building houses for the homeless refugees | The members of the group join the events |
Easy airlines to Rwanda and easy Application for Rwanda Visa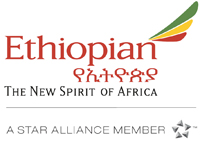 Rwanda opens its doors to welcome the increasing Chinese visitors. Chinese tourists can take the flights of
Ethiopian Airlines
from Beijing, Shanghai and Guangzhou to Rwanda.
Rwanda, together with Kenya and Uganda, the three countries in East Africa began to issue single tourist visa to Chinese visitors from January 1st, 2014, thus, the Chinese tour operators who joined the Rwanda Farm trip indicated that they will promote Rwanda along with Kenya and Uganda, which would be an attractive sale point.