Chinese travelershave been coming to the U.S to visit iconic destinations in these years.
Eager to spend their growing disposable income, travelers from mainland China's wealthy and rising middle classes are traversing the globe in search of iconic destinations they can cross off their bucket lists.
That wanderlust has increasingly brought them to a dream destination, the
USA
, in recent years as travel restrictions on them eased. Despite occasional economic and political dust-ups between the two nations' governments, a record number of Chinese visitors came to the U.S. in 2011.
Steps announced last month by President Obama to speed up visas for them should result in even more Chinese arrivals, further unlocking a huge source of income that the U.S. travel industry and retail business sector have long coveted.
So huge is the Chinese travel market potential that major U.S. travel suppliers including hotels and airlines, as well as major cities and even shopping malls that are sending sales representatives to China. They're educating tour operators in Chinese cities that few Americans have heard of. And hotels in this country are now serving rice porridge for breakfast and seeking Mandarin Chinese speakers to handle the phones and check-in desks.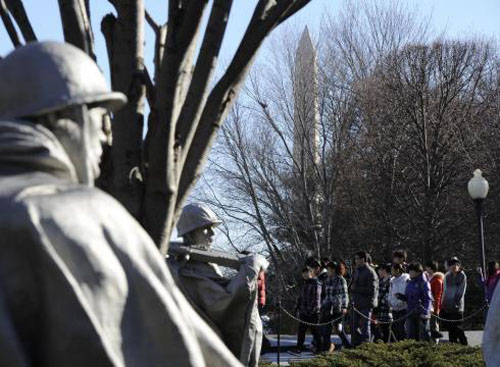 A Chinese tour group at the Korean War Veterans Memorial with the Washington Monument in the background.
Indicative of the growth and potential: In the first 10 months of 2011, visits frsom mainland Chinese rose 36% year-over-year to 940,000, according to the International Trade Administration of the U.S. Department of Commerce.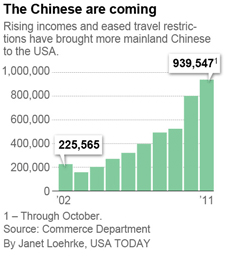 Chinese visitors' spending in the U.S. shot up 39% in 2010 to $5 billion, a growth rate that outpaced visitors from all other countries who have been traditionally high spenders here. That spending put the Chinese in seventh place among foreign visitors, overtaking
France
.
"U.S. travel and tourism exports to China have increased by at least 30% in six of the last seven years," the trade administration's 2010 report says. "U.S. travel and tourism exports account for 24% of all U.S. services exports to China."
About 70 million Chinese crossed their border in 2011, spending $69 billion, according to China Outbound Tourism Research Institute, a
Germany
-based research firm. And they've just begun.
Chinese travelers, mostly wealthy individuals or business travelers, have been coming to the U.S. in dribs and drabs for years. The floodgate didn't open until 2007, when China gave the U.S. its "approved destination" status, a change that allows the U.S. to market in the country. It also fueled a boom in Chinese group tour agencies that corral price-sensitive travelers leaving the country for the first time.
Their travel dynamic hasn't changed much, says David Huang of China Host, a travel agency. He estimates about 90% of Chinese visitors still travel in large groups, moving quickly from destination to destination while staying at budget hotels.
But with the duration of their stays longer than those of Europeans and their penchant for shopping, the power of their wallets has surprised many in the industry.