Joint Tourism Promotion Events of Croatia and Slovenia Were Successfully Held in Shanghai and Beijing

Joint Tourism Promotion Events of Croatia and Slovenia Were Successfully Held in Shanghai and Beijing
The first joint tourism promotion events of Croatia and Slovenia successfully took place in Shanghai on May the 25th and in Beijing on May the 27th.

With the theme of "Experience Croatia, Feel Slovenia", the events aimed to promote the rich tourism resources of these two countries, present the world famous music and culture of the two countries to Chinese travel trade and potential travellers. Professional presentation from the National Tourism Board of both countries and live performances by Croatian and Slovenia artists impressed invited guests, and inspired more Chinese wishing to visit Croatia and Slovenia.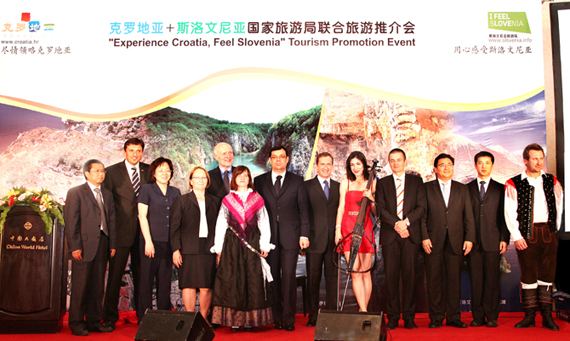 Senior officials from Croatian Ministry of Tourism, Slovenian Tourist Board,
Croatian National Tourist Board, both Embassies and China National Tourism
Administration and performing artists from Croatian and Slovenia took group picture


The joint tourism events, started with B2B workshop followed by press conference and tourism presentation and then sumptuous dinner for guests and hosts. The event attracted more than 150 attendants in Shanghai and 250 attendants in Beijing including invited VIPS, senior tourism officials, travel trade professionals as well as travel media. All the guests and hosts enjoyed the functions and made new contacts and partnership.
| | |
| --- | --- |
| | |
| The welcome dinner in Beijing | The welcome dinner in Shanghai |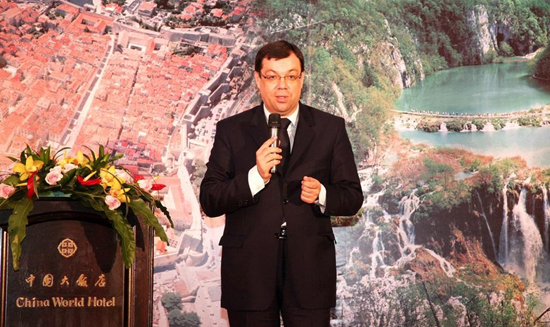 Croatian Minister of Tourism Hon. Damir Bajs gave keynote speech

In order to attract more visitors from China Croatian government announced early in March, 2010, to carry out a six-month visa-free policy for Chinese citizens with a Schengen visa during April 1st and October 30th. Croatian Minister of Tourism Hon. Damir Bajs indicated during the functions "This policy is not just for half a year. We'll strive to continue it next year and for the incoming several years. This policy also shows the long-term interest of Croatia in the Chinese tourism market."

Minister Bajs added, "In Croatia, you can enjoy the natural beauty of Mediterranean, experience our rich history and culture, and civilization of Central Europe. We provide quality travel services based on EU standard."

| | |
| --- | --- |
| | |
| Director of Croatian National Tourist Board Mr. Niko BULIĆ introduced Croatia with pride and answered questions to Chinese tour operators and journalists | Director of Slovenia Tourist Board Mr. Dimitrij Piciga presented the rich tourism products and resources of Slovenia during the presentation and press conference |

As the most important tourist destination in the Mediterranean, Croatia has a long tourist tradition and tremendous potential for development: well protected nature and environment, rich cultural and historical heritage, plus the mild Mediterranean climate - which embodies 8 national parks, 10 natural parks, 27 forest parks, 73 special protected areas, 75 natural sites and 120 garden heritages. Mr. Niko Bulic, Director of Croatian National Tourist Board emphasised "not only that, Croatia provides rich and diversified tourism products, from which we show a beautiful contrast of nature, culture and history to the visitors from all over the world."

His counterpart Mr. Dimitrij Piciga, Director of Slovenia Tourist Board, highlighted the Slovenian advantages "in Slovenia, staying in the same hotel, you can go for a break on beach, go snow skiing, or even attend the conference. You don't need to change your hotel, only change your destination to explore. " Indeed, Slovenia is the only country covered Alps, Mediterranean, Pannonian Plain and Karst. Hence the expression Slovenia - "from the Alps to the Adriatic Sea".


| | |
| --- | --- |
| | |
| Mr. Liu Kezhi, Director General of Marketing & International Department of CNTA, attended the joined event in Beijing | Mr. Dao Shuming, Chairman of Shanghai Municipal Tourism Administration gave welcome speech to Croatian and Slovenian delegations |
Chairman of Shanghai Municipal Tourism Administration, Mr. Dao Shuming and Director General of Marketing & International Cooperation Department of China National Tourism Administration (CNTA), Mr. Liu Kezhi attended the events in Beijing and Shanghai respectively. They expressed warm welcome to the two delegations led by Croatian Minister of Tourism and Directors of Slovenia Tourist Board and Croatian National Tourist Board as well as Ambassadors of both countries to China.


Croatian Ambassador H.E. Prof. Dr. Ante
Simonic delivered a welcome speech

Slovenia Ambassador H.E. Ms. Marija
Adanja delivered a welcome a speech

The events also received the support of Croatian Embassy and Slovenian Embassy. Two ambassadors gave warm speeches on the events. Croatian Ambassador H.E. Prof. Ante SIMONIĆ was also the founder of Chinese community in Croatia. He has deep affection to and interest in China. The Ambassador expressed that he would do his utmost to strengthen the cultural and tourism exchanges between China and Croatia.


| | |
| --- | --- |
| | |
| During the workshop in Shanghai interested tour operators actively discussed travel products and services with Croatian and Slovenian operators | During the Beijing workshop, many interested tour operators in Beijing came to communicate happily with their counterparts |
| | |
| Ms. Anna Rucner, the famous Croatian cellist played classical music in a modern way which entertained the audiences and received lots of applause | World Accordion Champion--Mr Robert Goter and Mrs Polona Jazbec from Slovenia, gave a brilliant acoustic performance |

This joint tourism promotion events co-hosted by Croatia National Tourist Board and Slovenia Tourist Board were supported by China Business Network and World Travel Online where Chinese travel trade professionals and millions Chinese travellers can access more information about Croatia and Slovenia by visiting the official Chinese websites of Croatia National Tourist Board: http://www.lvyou168.cn/travel/croatia and Slovenia Tourist Board www.lvyou168.cn/travel/slovenia.

Relevant News in Chinese:
克罗地亚和斯洛文尼亚联合旅游推介会,成功在上海和北京举办