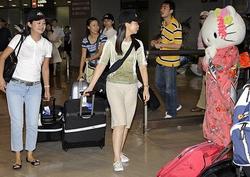 Tourists from China are welcomed by Japan's
tourism ambassador Hello Kitty upon arrival
Japan on Wednesday welcomed the first Chinese tourists travelling individually rather than on tours, under visa changes that aim to lure more wealthy foreigners amid the recession.

Until now, Chinese tourists had to travel in groups escorted by tour guides from both countries, a rule meant to prevent illegal immigration.

But in response to growing demand, Tokyo started issuing visas to individual Chinese tourists this month.

At Tokyo's Narita Airport, Japan Airlines arranged a warm welcome for the 19 tourists from Beijing and Shanghai. They were greeted by a person dressed as Hello Kitty wearing a traditional Japanese kimono.

Several children arriving from China were given stuffed toys of the cartoon cat, which Japan has chosen as a "friendship ambassador" to promote tourism, especially from the Hong Kong and China markets.

Japan expected 65 individual tourist arrivals from China on Wednesday, flying in on JAL, All Nippon Airways and Air China to several airports throughout the country, the tourist agency said.

"The Chinese market has great potential for tourism, especially for wealthy people to come here and boost consumption," said Hompo.

"Japan and China have had a complex history, but the exchanges of people could enhance mutual understanding," he added. "I want them to enjoy shopping and walking around freely in Japan."

Fan Chengyan, a 51-year-old businesswoman who arrived with her four children, said she would spend five days travelling around Japan.

"If I had time, I would like to see Kyoto, Mount Fuji and many areas of Tokyo. I heard Japan is a very environmentally friendly country. So I want to experience that," she said.

Under the new visa rules for China, applicants for individual tourist visas need "good references in terms of occupation, financial resources and other factors," the government has said.

The annual number of Chinese arrivals in Japan -- including both business visitors and tourists -- reached one million last year and is projected to hit 1.25 million in 2010.