UNESCO adds two Swiss railway lines to its World Heritage List
UNESCO adds two Swiss railway lines to its World Heritage List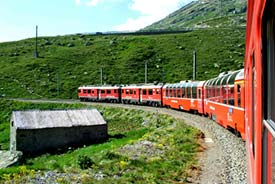 The Rhaetian Railway's Bernina Express climbs through the Swiss Alps



In July, 2008, the World Heritage Committee of UNESCO added the Albula and Bernina line of the Rhaetian Railway, or Rhätische Bahn, to its World Heritage List. This makes the Rhaetian Railway, serving the Canton of Graubunden in the south east part of Switzerland, only the third railway worldwide to be considered "universally outstanding" by UNESCO.

The two unique railway lines blend harmoniously into the enchanting landscape with spectacular constructions such as spiral tunnels and viaducts. On the Bernina line (built in 1903) the railway crosses 52 bridges and 13 tunnels. The Albula line (built in 1910) leads even over as many as 144 bridges and through 42 tunnels.

The two historic railways are unique in the entire world: The Rhaetian Railway (RhB) is the highest-altitude trans-Alpine line in Europe, and a line with one of the steepest gradients in the world without the use of rack and pinion technology. It is an excellent example of a mountain railway from the "Golden Age" of railroad architecture.
SwitzerlandTourism
Please
contact us
in case of Copyright Infringement of the photo sourced from the internet, we will remove it within 24 hours.