Foreign Minister Yang Jiechi Meets with U.S. Secretary of State Condoleezza Rice
Foreign Minister Yang Jiechi Meets with U.S. Secretary of State Condoleezza Rice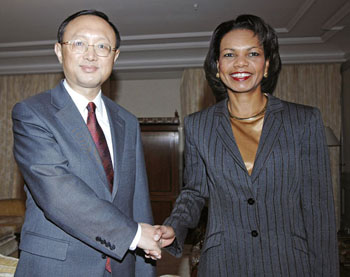 On January 23, 2008, Chinese Foreign Minister Yang Jiechi met with U.S. Secretary of State Condoleezza Rice in Berlin.

Yang said that in recent year China-US relations enjoy sound development in general. The two sides maintain frequent high-level exchanges, ever deepening economic and trade cooperation and effective communications and coordination on major international issues. The third strategic economic dialogue and the fifth strategic dialogue between the two countries have been held successfully. 2008 is a critical year for China-U.S. relations. Both sides should carefully implement the important consensus reached by their heads of state, keep the momentum of high-level exchanges and expand the cooperation in various fields. China and the U.S. should strengthen consultations and coordination on the important international issues, properly handle the Taiwan question, trade friction and other sensitive issues, avoid the interference of such politic factors as the U.S. presidential election and ensure the healthy and stable progress of China-U.S. constructive cooperative relations.

He added that the current situation across the Taiwan Straits is quite serious. Chen Shui-bian disregards the opposition of the international community and presses for the "referendum on UN membership", which poses severe threat and challenge to peace and stability across the Taiwan Straits and security in Asia and the Pacific. To oppose and stop the "referendum on UN membership" comply with the common interest of China and the U.S. China appreciates that the U.S. side including Secretary of State Rice openly expresses opposition to the "referendum on UN membership" and hopes make joint efforts with the U.S. to maintain the cross-Straits peace and stability and the sound momentum of bilateral relations.

Rice agreed on Yang's opinions about the bilateral relations. She noted that the bilateral relations develop soundly and to strengthen the bilateral cooperation in a wide range of areas serves the interest of both countries. She reiterated the firm opposition of the U.S. side to the proposed "referendum on UN membership" of Taiwan authorities and stressed that the U.S. would continue to follow the one-China policy resolutely.
ForeignMinistry
Please
contact us
in case of Copyright Infringement of the photo sourced from the internet, we will remove it within 24 hours.