Chinese President Hu Jintao is to visit South Africa early next month to strengthen political, economic and trade relations between the two countries.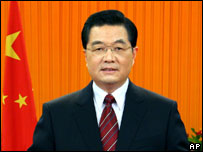 Chinese President Hu Jintao
is planning eight-nation African trip

This follows President Thabo Mbeki's visit to Beijing in November last year, where both leaders held bilateral talks on economic and trade relations, among others.

The Chinese president is expected to tour eight African countries, Deputy Foreign Affairs Minister Aziz Pahad told reporters in Pretoria on Wednesday.

The Chinese delegation, which is expected in the country on 7 February, will include China's foreign affairs and trade ministers.

Mr Pahad said it was clear from the China-Africa Co-operation Forum held in Beijing in November, that there was a need for Asian and African states to strengthen relations in various fields.

Addressing the summit last year, President Mbeki highlighted the importance of the existing relationship of mutual development and support between China and the African continent.

Some of the issues discussed at President Mbeki and President Hu's meeting at the summit included South Africa's election to the United Nations Security Council and peacekeeping and conflict resolution in Africa.

Last year, South Africa also hosted Chinese Premier Wen Jiabao for two days, as part of his tour of seven African states, which was the first such visit by a Chinese premier in 50 years.

During the visit the two governments signed the landmark Memorandum of Understanding on Promoting Bilateral Trade and Economic Cooperation, which involves import limitations on 31 product categories, until the end of 2008.

Premier Wen said his government would restrict its textile exports to South Africa, in a bid to remedy the trade imbalance existing between the continental powerhouses.

Sudanese President Omar Al-Bashir welcomed the planned visit by President Hu to Sudan, as part of his eight nation tour.

After meeting the Chinese Assistant Foreign Minister in Khartoum on Tuesday, President Al-Bashir said President Hu's visit would further boost co-operation between the two countries.