Malaysian Visa-on-arrival Scheme Includes 23 Countries
Malaysian Visa-on-arrival Scheme Includes 23 Countries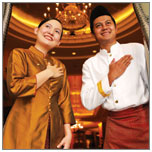 Effective September 1, visitors from 23 countries will be granted visa-on-arrival facility at Malaysia's international airports.

Visitors from China, India, Pakistan, Bangladesh, Myanmar and former Soviet Union member states have been included in the list. Citizens from these countries were previously required to undergo stringent vetting during visa application procedures.

The government has made the decision to include citizens from these countries despite immigration records showing they make up the majority of illegal foreign workers charged in the courts and deported home.

travel168
Please
contact us
in case of Copyright Infringement of the photo sourced from the internet, we will remove it within 24 hours.