German Chancellor Angela Merkel arrived in Beijing on a trip in which she will sign up to 20 business agreements, and she is also expected to persuade China to assume a greater role on the world arena.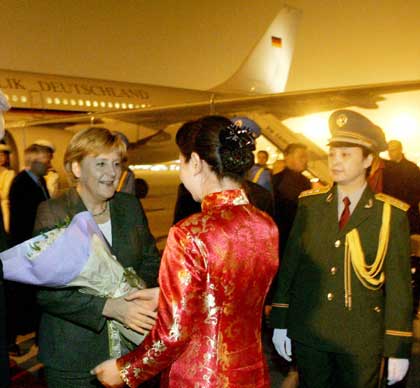 German Chancellor Angela Merkel receives flowers from an unidentified Chinese woman upon her arrival at the airport of China's capital Beijing May 21, 2006. Merkel is on an official two-day visit to China.

Merkel arrived in Beijing Sunday night on her first visit to China since she took office replacing Gerhard Schroeder six months ago. Merkel, 51, is scheduled to meet Chinese President Hu Jintao and Premier Wen Jiabao today.

Merkel will seek to persuade her hosts to match China's growing economic clout with a greater diplomatic presence, German officials said. "The economic role of China has grown and so has its responsibility on the international stage. Based on its economic position, China must take on more responsibilities," said one official, speaking on condition of anonymity.

Specifically, Germany would like to see China involved more closely in the international efforts to solve the nuclear crisis in Iran. China and Russia, both as permanent member of the powerful UN Security Council, have said that they are against the use of force or economic sanctions against Iran.

Merkel's delegation, which comprises senior officials including Economy Minister Michael Glos, Transport Minister Wolfgang Tiefensee and a delegation of 40 executives from companies such as Siemens and Lufthansa, indicates the economic importance of her trip.

China is Germany's biggest trading partner in Asia.

Chinese foreign ministry spokesman Liu Jianchao used a regular briefing last week to signal the economic importance that Beijing attached to the trip.

"Germany has been an important partner for China in trade, the trade volume between the sides registered US$63.2 billion in 2005, accounting for one third of the trade volume between China and the European Union," Liu said.

"There has been extensive cooperation between China and Germany in various fields, including trade and commerce, culture, sports, science and technology and environment protection."

A series of contracts and documents will be signed during her two-day trip, which will also take her to Shanghai.
Siemens, which led a group that helped build the 30-kilometre magnetic levitation (Maglev) train link between downtown and Pudong International Airport in Shanghai, may be among the winners of new contracts.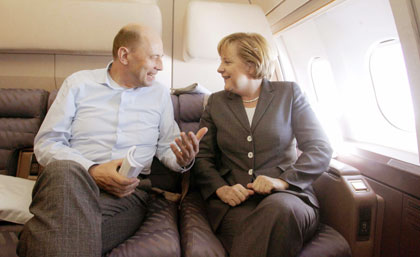 German Chancellor Angela Merkel (R) listens to German Transport and Construction Minister Wolfgang Tiefensee during their flight from Berlin to China's capital Beijing May 21, 2006. Merkel is on an official two-day visit to China.
A Siemens-led group is bidding to build a 35-billion-yuan (US$4.4 billion) Maglev link between Shanghai and the nearby city of Hangzhou, capital of Zhejiang Province.
"Germany and China have had a very good start on the Maglev project," Liu Jianchao said. "China is willing to continue to co-operate."
Merkel pledged to "develop a long-term partnership-style strategy" with Beijing when she took office on November 22; and her trip to China is only the second country outside Europe she is visiting as chancellor, following two trips to the United States.
Analysts say she faces some delicate issues with China, which she has visited in an official capacity only once before as German environment minister in 1997.
Merkel was critical of her predecessor Schroeder's efforts to scrap an EU arms embargo on Beijing that has been in place since 1989.
Also, Beijing and Berlin are at odds on imposing sanctions against Iran, with Merkel open to tougher measures and the Chinese Government against a showdown with the Islamic republic in the UN Security Council.
"From an overall perspective, Merkel will maintain policy continuity towards China, because she is aware how important the vast market means to German economy," Lian Yuru, a professor of German studies at Peking University, said in an interview.
She said Merkel is "rational, pragmatic and cautious" in handling international relations. "Her first visit as chancellor can also be to establish a personal equation with Chinese leaders."