Emaar Hospitality Group, the hospitality and leisure business of Emaar Properties, unveiled its new technology projects at the Arabian Travel Market (ATM) 2018. During ATM 2018, Olivier Harnisch, CEO of Emaar Hospitality Group and GM of the restaurant of Address Dubai Mall met with Dr. Adam Wu, CEO of
World Travel Online
, one of the hosted media for ATM2018, at the international media meeting.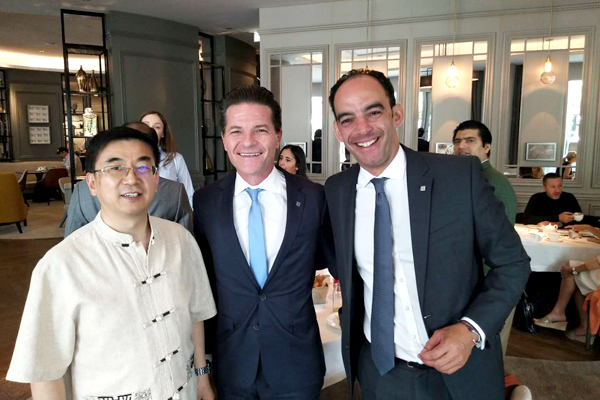 Dr. Adam Wu with Emaar Hospitality Group CEO, Mr. Olivier Harnisch and GM of The Address Dubai Downtown which hosted the invited Media for ATM.
Emaar has attempted to remove all repetitive activities from their guests' hotel stay, and the technologies will include personalization features, the digitization of check-in and checkout desks, and the porting of concierge services to a mobile application. The technology will completely change the hotel.
Mr. Olivier Harnisch was introducing the
Emaar
's future plan in a press conference, which had attracted a lot of media
Emaar Hospitality Group will add some new destinations in the future to achieve its ambition - to be one of the world's most admired and trusted hospitality companies.
Emaar Hospitality Group also offered a high-class
gala dinner for the media guests at
Palace Downtown, one of its hotels in Dubai.
Emaar Hospitality employed Chinese speaking staff to communicate with Chinese tour operators and visitors more easily