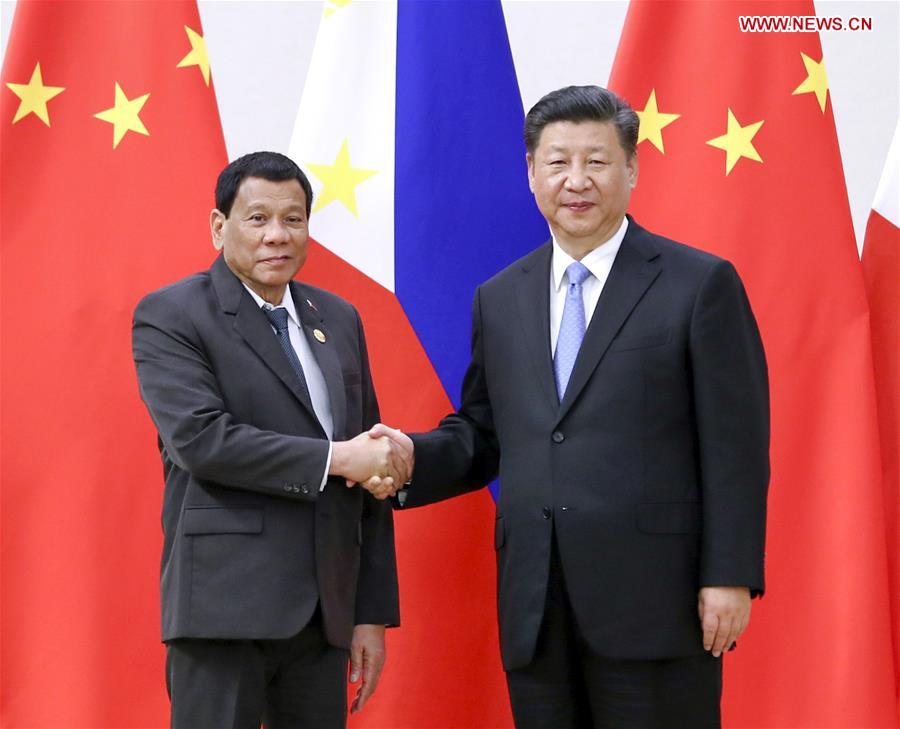 Chinese President Xi Jinping on Tuesday called for elevating the ties between China and the Philippines while meeting with his Philippine counterpart Rodrigo Duterte at the Boao Forum for Asia annual conference.
Xi said that the leaders of both countries should maintain close communication, and strengthen strategic steering and top-level design for the bilateral relations.
From a rapid turnaround to a consolidated relationship, China and the Philippines have taken "two steps upward" in their bilateral ties over the past two years, Xi said.
"The task of this year shall be upgrading the relationship," he said.
According to Xi, both sides shall dovetail their development strategies and advance cooperation under the framework of the Belt and Road Initiative and in all areas for mutual benefits.
The two countries shall also strengthen security cooperation, and China supports the Philippines in fighting against terrorism and drugs, Xi said.
"A new chapter has opened in the bilateral ties since President Duterte took office," he said.
China is willing to work with the Philippines to stick to the direction of good-neighborly friendship, set the goal of common development and properly manage differences, so that the bilateral ties will keep to the right direction and stay healthy and stable, he said.
Xi also said that China is resolute in developing good-neighborly friendship with the Philippines and sincere in supporting the Philippines' development.
"China supports the Philippine government in exploring a development path in line with its own conditions," Xi said.
"We should continue to properly handle South China Sea issue, and discuss joint exploration, development and cooperation at an appropriate time, thus making the waters a sea of cooperation and friendship," he said.
China has always taken the Association of Southeast Asian Nations (ASEAN) as a priority in its neighborhood diplomacy, Xi said.
This year marks the 15th anniversary of the China-ASEAN strategic partnership and also the China-ASEAN Year of Innovation, while the Philippines will be the coordinator of China-ASEAN ties.
Xi said China is willing to maintain close communication and coordination with the Philippines to promote China-ASEAN ties and regional cooperation in East Asia, Xi said.
Noting that the bilateral relations have maintained a sound momentum, Duterte expressed his thanks to China for its assistance and support in boosting the Philippines' socioeconomic development, and improving its capabilities in fighting terrorism and maintaining stability.
The Philippines is willing to participate in the building of the 21st Century Maritime Silk Road and maintain close cooperation with China in sectors including economy and trade, fishing, tourism, education and infrastructure, Duterte said.
The Philippines will also work with China to maintain peace and stability in the South China Sea through bilateral communication and consultation, and boost cooperation in this regard, he said.
The Philippines is willing to help deepen the ASEAN-China cooperation, he added.
After the meeting, the two leaders witnessed the signing of bilateral cooperation documents.