Chinese PM Li Keqiang Holds Talks with Prime Minister Ukhnaagiin Khürelsükh of Mongolia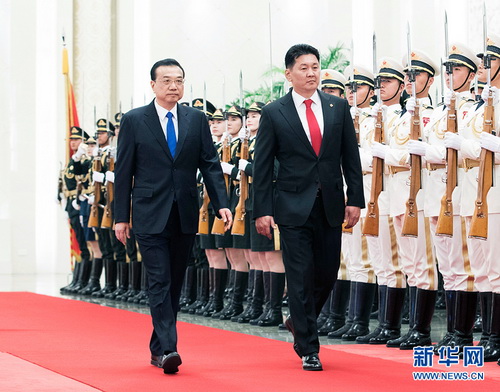 On the morning of April 9, 2018, Premier Li Keqiang held talks at the Great Hall of the People with Prime Minister Ukhnaagiin Khürelsükh of Mongolia, who was in China for an official visit.
Li Keqiang expressed that China and Mongolia are important neighboring countries to each other, and good friends and good partners. In 2014, President Xi Jinping visited Mongolia, during which China-Mongolia comprehensive strategic partnership was established. Appreciating the Mongolian government's firm adherence to the one-China policy, China is willing to, together with Mongolia, always grasp the development direction of bilateral relations from a strategic height and long-term perspective, constantly consolidate political mutual trust, earnestly respect each other's core interests and major concerns, maintain the momentum of high-level mutual visits, strengthen governmental and parliamentary exchanges and exchanges between political parties, and intensify communication in international and regional affairs, so that the development of China-Mongolia relations will not only benefit the two countries, but also be conducive to regional peace, stability, development and prosperity.
Li Keqiang stressed that next year marks the 70th anniversary of the establishment of China-Mongolia diplomatic relations. China is willing to seize the opportunity with Mongolia and promote bilateral relations for greater development. Both sides should make innovation in forms, enrich contents and well hold the commemorative and exchange events for the establishment of diplomatic relations. Both countries should strengthen people-to-people and cultural exchanges in such areas as youth, culture, media, and tourism, facilitate personnel exchanges and consolidate the public opinion foundation for China-Mongolia friendship.
Ukhnaagiin Khürelsükh expressed that developing good-neighborly and friendly relations with China is the primary principle of Mongolia's foreign policy. The new Mongolian government will continuously adhere to this policy to enrich and deepen Mongolia-China comprehensive strategic partnership. Mongolia firmly adheres to the one-China policy, and supports that Taiwan and Xi Zang are inalienable parts of the Chinese territory, and issues concerning Xi Zang and Taiwan are China's internal affairs. This policy will remain unchanged. China's neighborhood policy featuring amity, sincerity, mutual benefit and inclusiveness provides new opportunities for the development of Mongolia-China relations. Mongolia stands ready to, together with China, strengthen political mutual trust, maintain high-level exchanges, deepen cooperation in economy and trade, cement the integration of strategies, initiate the feasibility study on bilateral free trade agreement within this year, and expand practical cooperation in areas including trade, tourism, production capacity, minerals, agriculture and animal husbandry and transportation, in a bid to push for the improvement and upgrade of Mongolia-China comprehensive strategic partnership.