Li Keqiang: To Construct a Community of Common Destiny Featuring Common Ideals, Common Prosperity, and Common Responsibility
China-ASEAN tourism cooperation will be elevated to a new level.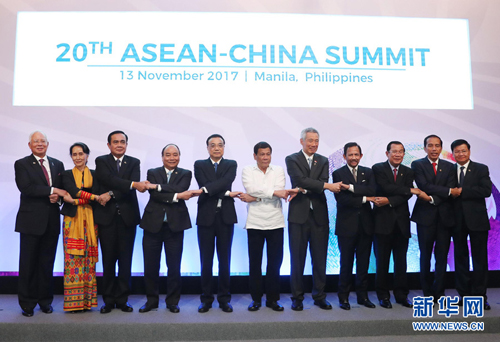 On the afternoon of November 13, 2017 local time, Premier Li Keqiang attended the 20th China-ASEAN (10+1) Leaders' Meeting at the Philippine International Convention Center. Leaders from the ten ASEAN countries attended the meeting. Li Keqiang co-hosted the meeting with President Rodrigo Duterte of the Philippines.
Li Keqiang said in his speech that this year marks the 50th anniversary of the establishment of ASEAN, and China is pleased with the ASEAN's development and progress and full of confidence in ASEAN's future prospects. China firmly supports the construction of ASEAN community, supports ASEAN's central role in regional cooperation, backs ASEAN in playing a greater role in international and regional affairs, and always takes ASEAN as a priority in its neighborhood diplomacy. China sticks to be a good neighbor, a good friend and a good partner with ASEAN through thick and thin and caring and helping each other, so as to jointly establish a community of common destiny featuring common ideals, common prosperity, and common responsibility.
Li Keqiang pointed out that the 19th National Congress of the Communist Party of China held recently made a strategic plan and grand goals for China's development from now on to the middle of this century, which will create more opportunities and vast space for cooperation between China and other countries all over the world. Li Keqiang made five suggestions to further elevate China-ASEAN relations to new highs in the future:
First, jointly plan the development vision of China-ASEAN relations. We should formulate "2030 Vision for China-ASEAN Strategic Partnership", upgrade "2+7 Cooperation Framework" to "3+X Cooperation Framework", and build a new cooperation framework that takes the three pillars including political security, economy and trade as well as people-to-people and cultural exchanges as the mainline and with multi-field cooperation as the support.
Second, advance the docking of the "Belt and Road" initiative with ASEAN's development strategies. We should uphold the principle of extensive consultation, joint contribution and shared benefits, enhance the docking of the "Belt and Road" initiative with the Master Plan on ASEAN Connectivity 2025 (MPAC 2025), and deepen all-round cooperation in such fields as economy and trade, finance, infrastructure, regulation and personnel.
Third, steadily strengthen bilateral cooperation in political security. We should intensify close high-level exchanges, strengthen policy communication and dialogue, deepen cooperation in political security, enhance mutual understanding and trust, and reinforce cooperation in judicial affairs, fighting transnational crimes, counter-terrorism, cyber security and other non-traditional security areas.
Fourth, further tighten the bond of economic and trade cooperation. We hope that all ASEAN countries will approve the upgraded version of the China-ASEAN Free Trade Area as soon as possible, so that the upgrading results of the FTA will benefit both sides. We should actively promote the negotiations of Regional Comprehensive Economic Partnership to lay the foundation for constructing the East Asia Economic Community. We should push forward the implementation of major projects in international production capacity cooperation. China is willing to intensify its cooperation with ASEAN countries in the financial field during the process of RMB internationalization.
Fifth, continuously improve the level of people-to-people and cultural exchanges and cooperation and elevate China-ASEAN tourism cooperation to a new level. China will provide the ten ASEAN countries with no fewer than 20,000 Chinese government scholarships in the coming three years. China proposes to carry out the "China-ASEAN Talents Development Plan", provides ASEAN with 3,000 study offers in China in 2018, and strengthens capacity building cooperation in fields of economy and trade, agriculture, science, education, culture, health care, public management, and transportation between both sides. China agrees to set 2018 as the "China-ASEAN Year of Innovation", and is willing to arrange 500 person-time ASEAN young scientists to go to China for a short period of scientific research work in the next 5 years, train 1,200 person-time ASEAN scientific and technical as well as management personnel, and put 10 joint laboratories into operation, so as to guide comprehensive innovation cooperation of both sides with scientific and technological innovation.
Li Keqiang stressed that China proposes this meeting to officially announce the launch of the next consultation paper on the Code of Conduct in the South China Sea (COC).
Present leaders of ASEAN countries said that ASEAN-China relations have maintained a strong, stable and mutually beneficial development momentum and become one of the most substantial diplomatic partnerships with ASEAN. Over the past year, exchanges and cooperation between the two sides in the fields of economy and trade, and people-to-people and cultural engagement have achieved fruitful results again. It is believed that this leaders' meeting will chart the course for the future development of bilateral relations. ASEAN spoke positively of the two sides officially launching the next consultation paper on the COC, which reflects the current positive trend of stability in the South China Sea and consensus of the two sides being committed to maintaining regional peace and stability.
The meeting adopted outcome documents such as the Joint Statement between China and ASEAN on Further Deepening Cooperation in Infrastructure Connectivity, the Joint Statement between China and ASEAN on Comprehensively Strengthening Effective Anti-corruption Cooperation, the Joint statement on China-ASEAN Tourism Cooperation, and the Declaration for a Decade of Coastal and Marine Environmental Protection in the South China Sea (2017-2027).
Li Keqiang and leaders from the ten ASEAN countries and dialogue partners also jointly attended the commemorative activities marking the 50th anniversary of the establishment of ASEAN held on the evening of November 12 and the opening ceremony of the series of Leaders' Meetings on East Asia Cooperation held on the morning of November 13.