The most popular direct route in 2018 was Shanghai-Paris which saw 265,000 passengers.
In 2018, France was the world's top tourism destination, with nearly 90 million tourists and it has always been the most popular European destination for Chinese travellers, with more visitors from China going there than to any other European country.
In the news last month for the loss of the historic Notre Dame cathedral in Paris to a fire, first time Chinese travellers to France this summer will be disappointed they've missed the opportunity to see what 11 million of their countrymen and women may already have experienced. France, and of course Paris, is much more than just Notre Dame, and there are still plenty of amazing sights to see and experience.
This summer sees more choice than ever for travellers between the two countries. In April last year there were services from 7 Chinese cities to Paris, whilst this summer there are 12. In addition to the existing services from Beijing, Shanghai and Guangzhou; travellers now have the option to fly direct to Paris from Fuzhou (operated by Xiamen Airlines), Qingdao (China Eastern), Shenzhen, Chongqing, Guiyang (Hainan Airlines) and Jinan (XL Airways France).

Routes to France operated by scheduled airlines in May 2019
Paris to Beijing and Shanghai routes are well served, with 5 and 4 daily services respectively, whilst Paris to Guangzhou operates once daily. The routes to Paris from other Chinese cities operate on a lower frequency, with between one and three flights per week, although this is more than suitable for the leisure market. Two thirds of all flights between France and China are operated by Chinese carriers, although Air France are the biggest individual airline with a third of all flights. Air China are the Chinese carrier with most flights, operating 26% of flights, with China Eastern a close second with 19% of flights.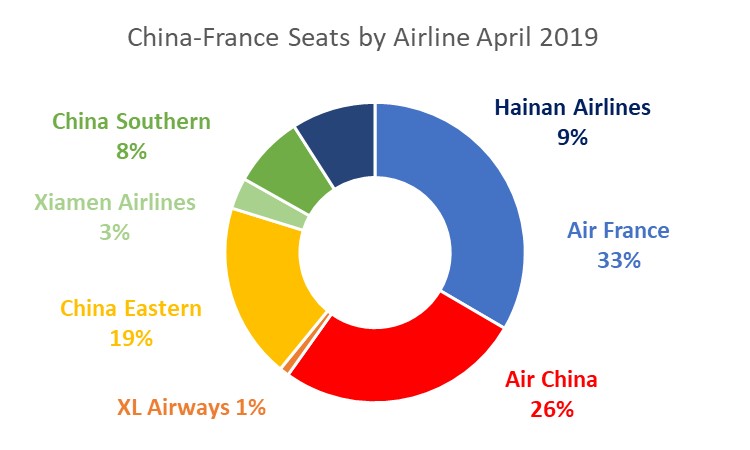 Looking forward the new Beijing Daxing airport development has prompted some new route applications for Chinese airlines. China Southern, China Eastern and Juneyao Air all want to operate a daily service between Beijing Daxing and Paris from next year which would significantly increase the seats available for passengers wanting to travel between these two cities. China Eastern have also applied to increase Shanghai – Paris services and China Southern want to do the same with the Guangzhou- Paris route. Juneyao also want to operate a new service from Nanjing to Paris next summer. All good news if you haven't been to France yet!
We know that there is lots of untapped demand for direct travel to France too, with the latest statistics from OAG's Traffic Analyser showing in 2018 that 51% of the 1.3m annual passengers travelled indirectly to France. The most popular direct route in 2018 was Shanghai-Paris which saw 265,000 passengers. The next most popular route was Beijing to Paris with 218,000 direct passengers. Despite the high frequency on both of these routes, a further 60,000 passengers chose to fly indirectly from both Beijing and Shanghai, indicating that the planned additional capacity for next summer may well be needed.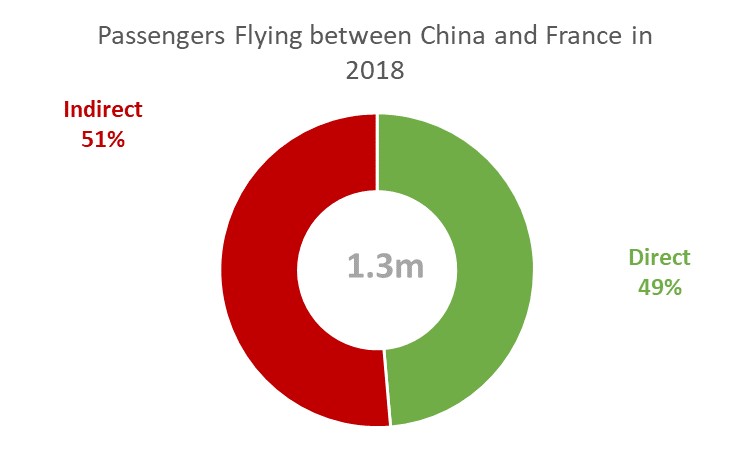 In some cases, indirect passengers are those routing from other parts of China through Beijing or Shanghai, accounting for around 30% of the indirect market. For others, there is not one most popular indirect route, but flying via some of Europe's biggest hubs including Moscow, Frankfurt and Amsterdam are all popular. Passengers choose to fly indirectly for a number of reasons, sometimes it's down to price, availability and timing and sometimes because they want to fly with a favourite airline. As well as passengers flying indirectly on routes where there are direct services, there are still some large unserved markets between China and France. Over 100,000 passengers travelled last year between Wenzhou and Paris. Wenzhou has a large French population, believed to be around 600,000 – 700,000 and there undoubtedly seems to be enough demand to support a direct service.
As yet there are no direct services from China to other French cities, but with growing indirect markets to Lyon and Nice, it may not be long before we see direct services beyond Paris. In 2018, nearly 50,000 passengers travelled between China and Nice, and a further 48,000 travelled to Lyon.