During ITB Berlin period,COTRI China Outbound Tourism Research Institute said that the second wave of China's outbound tourism has started.
Good news for smaller destinations and attractions all over the world – the second wave of China's outbound tourism has started. An increasing number of self-organised travellers from China are slowing down and spreading further afield in their quest for prestige and knowledge. This is the message of a workshop organized by COTRI China Outbound Tourism Research Institute which took place in Berlin during the ITB convention.
China ranks in third position worldwide with regard to both the number of outbound travelers and the amount spent. In 2011 over 70 million mainland citizens travelled abroad, spending close to 70 billion USD. COTRI is forecasting that in 2013 China will overtake
Germany
and the
USA
as the No. 1 international tourism source market in the world.
Dr. Adam Wu, Chief Operating Officer of
CBN Travel & MICE
, and Mr. Victor Xu Shengli, former head of the German National Tourism Board China office, both underlined the need to understand the "second wave" and the special needs and demands of the different segments of the Chinese outbound market. A full-capacity audience of tourism professionals joined the discussion with their own experiences and insights into a market, which nobody in the industry can ignore anymore.Thorsten Lind, VP Sales Global Blue Germany, who introduced impressive numbers of the shopping performance of Chinese travelers. In many destinations, including Germany, Chinese are the top spenders among all foreign visitors.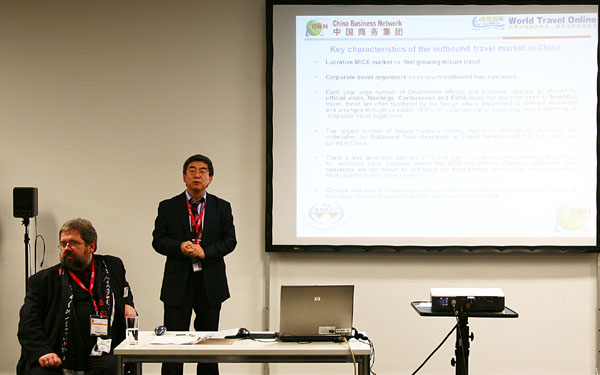 The Chief Operating Officer of CBN--Dr. Adam Wu is delivering speech

The "New Chinese Tourists" are more flexible to add smaller destinations and special-interest sights and activities to their itinerary, and they are wealthier and more willing to spend money on sophisticated branded goods while travelling. It should not be forgotten that more than 1.1 million households in China have over one million USD in cash assets, while the average age of those millionaires is only 39 years.

Chinese international tourism outside of package tours is growing fast. A number of developments have positively influenced the start of the second wave of China's outbound tourism:
• Rampant consumerism and the growing affluence of the top 5% of Chinese society
• Simplified bureaucratic procedures, making it easier both to obtain passports and hard currency in China and also tourist visas in the destination
• Increased offline and online tourism marketing by national and regional tourism organisations
• Better information about travelling and quality of products (from a Chinese point of view) through social media contacts
• The experiences of repeat-travellers in shaping new interests and increasing the confidence of the New Chinese Tourists

Last but not least, increased support from the Chinese government for outbound travel as a form of "soft power" projection.

Say "Ni Hao" to your new customers!