The China Tourism Academy put the final figures as approximately 70 million trips overseas in 2011, an increase of more than 20% from the 57.4 million trips in 2010.
On the release of the conference on "2011 Tourism Economy Analysis and 2012 Development Forecast and Blue Book of China's Tourism Economy (No. 4)" on January 10th, China's tourism economy showed a trend of strong and rapid growth in the past year.
The Blue Book of China's Tourism Economy's Report (No. 4) said there were 70 million Chinese outbound tourists in 2011, up 22% year on year, and that outbound tourist expenditure reached $ 69 billion, up 25% year on year.
China Tourism Academy predicted that the number of Chinese Outbound Tourists in 2012 could reach 78.4 million, an increase of 12%, and that outbound tourism expenditure will be $80 billion, up 16% year on year.
China hot on the heels of the largest tourism source markets
China ranks in third place as a global outbound tourism source market, however it is closely following the two greatest source markets with very narrow margins.
Germany
and the
USA
hold on to the two top positions, yet the gap between the three countries is decreasing and predictions that the future of international tourism lies with China still stand strong.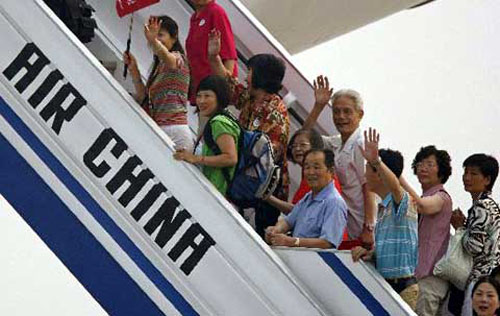 Taleb Rifai, Secretary-General of the UNWTO (United Nations World Tourism Organisation), recently claimed "we can expect to see China become the number one country in terms of both receiving and sending tourists in the next five to seven years". A study by Commerzbank in Germany arrives at a similar conclusion; according to Jutta Kayser-Tilos, an economist at Commerzbank, "against the backdrop of continued strong growth of the Chinese economy, it is expected that the title of "Travel World Champion" will soon go to China". For many destinations, including non-neighbouring countries like Australia or the
Maldives
, China is already the most important inbound tourism source market today.
Chinese tourists are spending more than ever
CTA have reported that the tourism spending of Chinese consumers is now over 69 billion USD, a massive increase on the 55 billion USD spent by Chinese tourists in 2010. Figures from Commerzbank show that China holds a steady third position in terms of spending: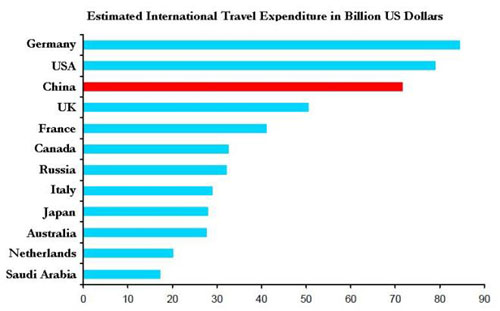 As Prof. Dr. Arlt argued in 2011, without any major setbacks to dissuade Chinese spending, the affluent middle and upper classes are "showing off to the world their increased purchasing power in the major tourism destinations".
COTRI predicts 80+ million border crossings in 2012
Fifteen years ago, when the UNWTO forecast that by 2020 there will be over 100 million Chinese people travelling abroad it appeared to be wishful thinking, as the number was still below 10 million at that time. However, this 100 million mark will only be two more years away if growth continues at 20%.
This high growth is likely to be maintained, as Chinese citizens are benefitting from advances in transportation and communication, and policies set by the government in China and overseas continually becoming more open. The expanding tourist base will be demanding particular standards in order to meet their unique needs, challenging the assumption that "western" tourist behaviour is the norm in international tourism.
The Chinese economy will face serious challenges in the months ahead, with a return to double-digit GDP growth rates unlikely for the foreseeable future. Nevertheless, status-enhancing overseas trips will continue to be an important aspect of the affluent Chinese consumers's expenditure. Looking to 2012, CTA expects an increase in Chinese outbound tourism of 12%, yet COTRI is again more optimistic.
Prof. Dr. Arlt predicts that "unless there are major natural disasters or a new contagious disease scare, in 2012 COTRI expects the number of border crossings from mainland China to surpass 80 million and the average spending per trip to surpass 1,000 USD".
Related News in Chinese:
中国旅游研究院: 2012年中国出境旅游人数预计达7840万