Business Travel leading the Outbound Trend as China Announced 10 New COVID-Easing Steps
China's 10 new measures on COVID-19 will steadily push the opening of the international aviation market
On December 7, China State Council's Joint Prevention and Control Mechanism released 10 new measures on further adjusting and optimizing its COVID control, including "lifting COVID testing and health code requirements for domestic cross-regional travelers as well as landing checks." Airports in Beijing, Sanya, Nanjing, Guangzhou, Chongqing, Wuhan, and other cities quickly followed suit, no longer checking nucleic acid, health code, travel code, and at the same time lifting landing checks.
The release of "20 measures" and "10 new measures" on optimizing COVID response is a major boon to the civil aviation industry and the recovery of international travel. With measures of canceling the circuit breaker mechanism for international flights, shortening the quarantine period for inbound travelers, simplifying inbound testing, and optimizing COVID control standards, etc., domestic and outbound airlines are inspired to open China routes. Currently, many foreign airlines are actively applying for more China routes and better flight times; many domestic airlines will resume their international routes that have already been approved this year, and more international routes are expected to resume next year.
According to the Civil Aviation Administration of China (CAAC), there are 840 international passenger flights per week in the 2022/23 winter-spring season, an increase of 105.9% compared to last winter and spring seasons. The market demand for international routes has rebounded significantly under the stimulation of capacity increase and favorable policies.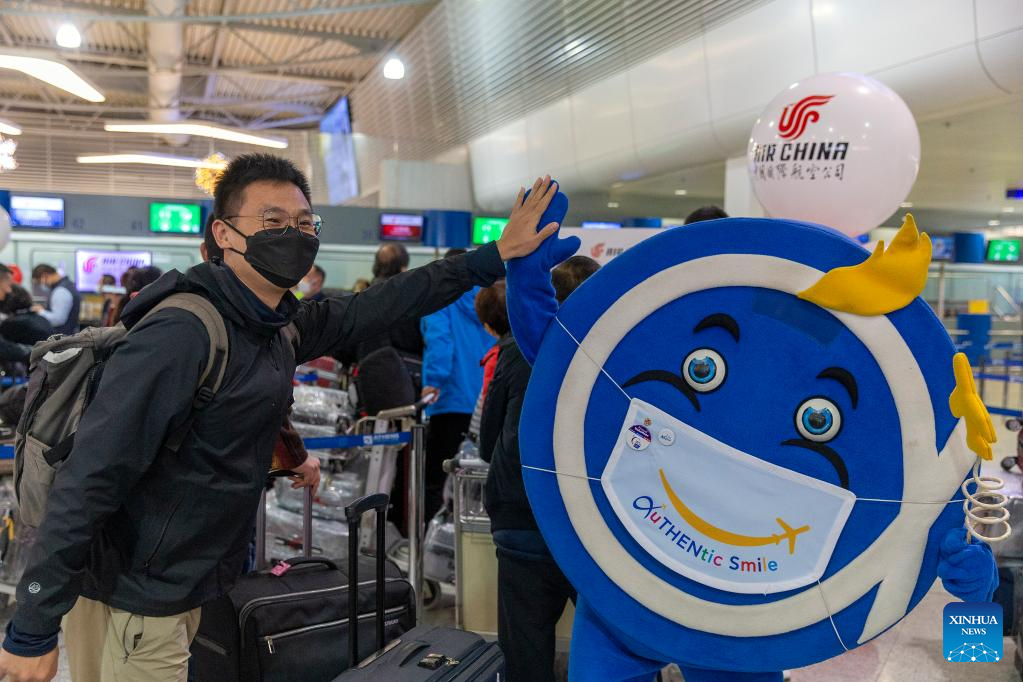 A passenger poses for a photo with an airport mascot at Athens International Airport in Greece, on Dec. 22, 2022.
Air China launched a new direct flight between China's Shanghai and Greece's Athens on Thursday at Athens International Airport (AIA), the first direct flight between the two cities. [Photo/Xinhua]
Business travel is leading the outbound trend, and leisure travel will restart in the near future
As the leading power of outbound travel, business travel has taken the first action. At the beginning of December, Zhejiang province organized the first provincial-level outbound business group since the epidemic. Led by the Zhejiang Department of Commerce and the Provincial Foreign Affairs Office and other units, this group flew to France, Germany, the United Arab Emirates, Indonesia, Japan, and other countries to expand the market.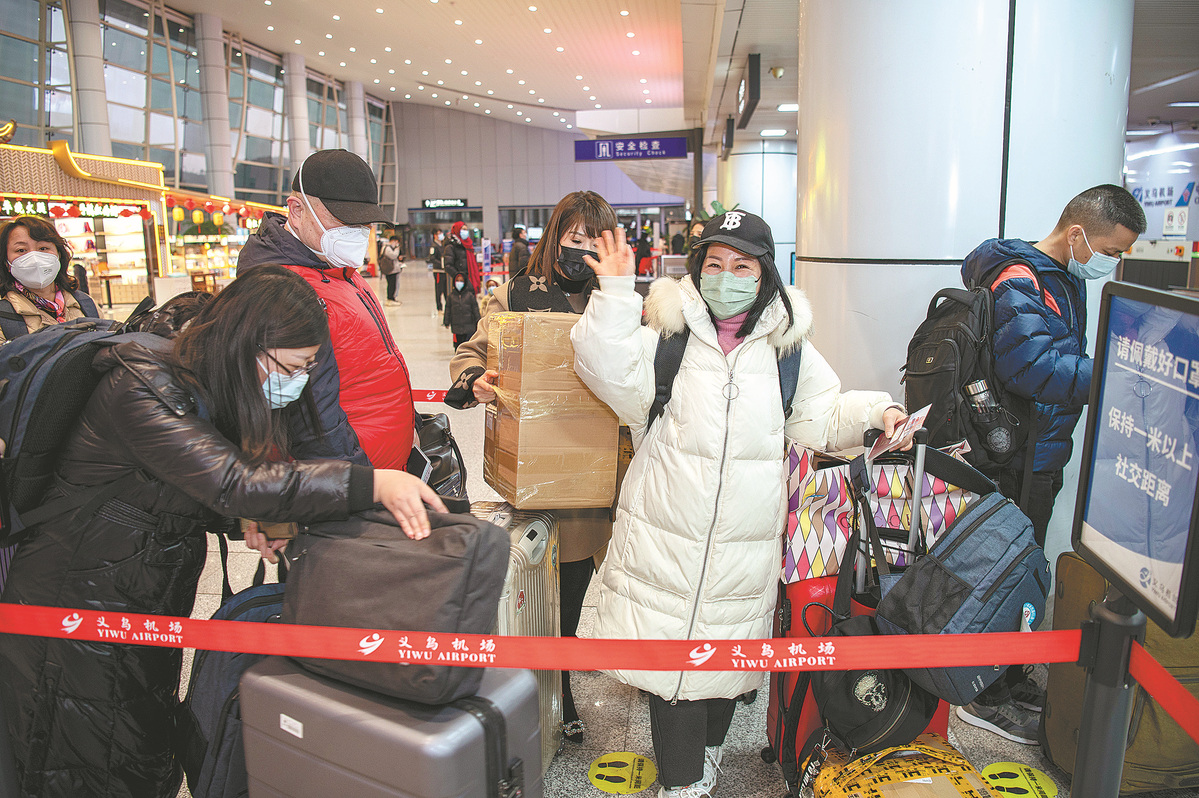 Business owners from 23 trading companies based in Yongkang, Zhejiang province, await boarding at Yiwu Airport, Zhejiang, on Sunday. They chartered a flight to the United Arab Emirates to seek business opportunities. [PHOTO by HU XIAOFEI/FOR CHINA DAILY]
Subsequently, Zhejiang Province will also organize more than 10,000 enterprises to participate in economic and trade activities internationally. The government has taken the lead in "going out", further releasing the positive signal of market opening.