The Qingming Festival (Tomb-sweeping Day) holiday which came from 3 April to 5 April this year, led to the first domestic travel peak of 2021, due to the progress that has been made in China's prevention and control efforts against the COVID-19 epidemic.
According to the data of the Ministry of Culture and Tourism, 102 million domestic trips were made during the festival, an increase of 144.6 percent year-on-year and a recovery to 94.5 percent of the same period before the COVID-19. Domestic tourism revenue reached 27.168 billion yuan (about $4.15 billion), up 228.9 percent year on year, and recovered to 56.7 percent in the same period before the epidemic.
During the holiday, tourists' enthusiasm for travel is high, and red tourism continues to heat up. The demand for outing trips, suburbs trips, rural trips, and self-driving trips has accelerated. According to a survey conducted by the China Tourism Research Institute, 57.0% of tourists participate in outings, 32.5% of tourists experience gardens and flowers, and self-driving tourists account for 60.0%. Red tourist attractions such as Jinggangshan in Jiangxi, Yan'an in Shaanxi and Xibaipo in Hebei are favored by tourists. Many red tourist attractions have launched a combination of "Red Theme Tour" + "Historical and Cultural Tour" + "Beautiful Mountain and Water Tour".

Local cultural and tourism departments are fully prepared, and market supply responds to tourists' needs in a timely manner. The reception volume of tourist attractions and the occupancy rate of resort hotels and specialty homestays are close to the same period before the epidemic, and the phenomenon of "both volume and price rising" in some areas. Museums, libraries, art galleries, cultural centers, etc. receive more tourists, and exhibitions, plays, poetry sessions, concerts, and stage plays are gradually returning to normal. According to a survey conducted by the China Tourism Research Institute, 93.4% of tourists participated in cultural and leisure activities, and the overall satisfaction of the masses with cultural leisure and tourism during the Qingming period was 89.3 points, reaching a satisfactory level.
Beijing and Shanghai were the top two most popular destinations, according to Qunar.com, but Chengdu, Chongqing, Guangzhou and Xi'an were also popular. Moreover, many Chinese tourists travelled to Shenzhen, Hangzhou, Kunming, and Changsha.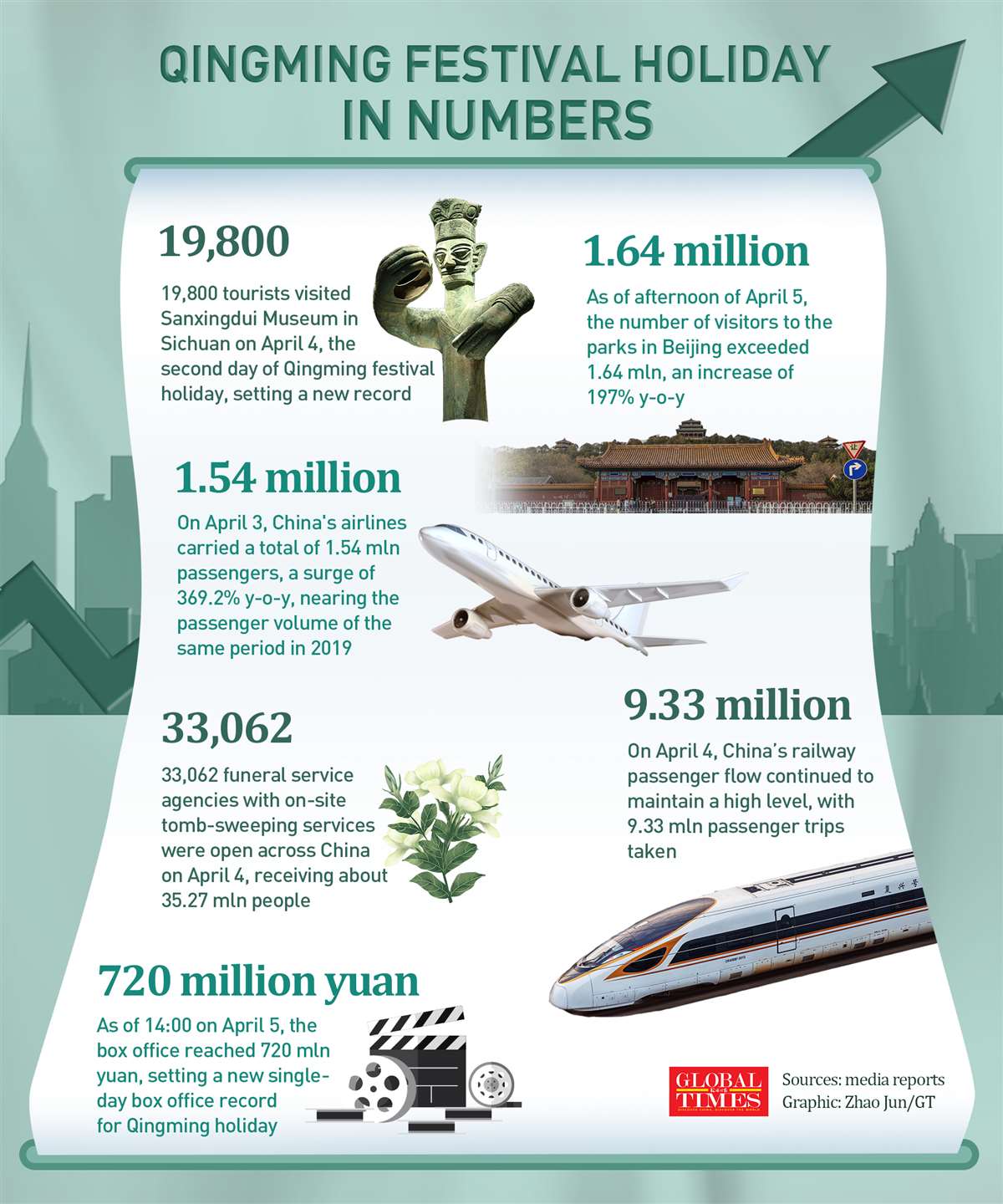 Qingming festival holiday in numbers. Graphic: Global Times
Though China's domestic tourism is on an orderly recovery, a full recovery of travel spending will still take more time due to the high proportion of short-distance trips, low prices of tourism products and large-scale free admission and discounts, the ministry said.
However, the demand is expected to surge. Tourism will majorly rebound during the upcoming five-day May Day holiday and summer as the weather is getting warmer and an increasing number of people are getting vaccinated against the Covid-19, said Lan Xiang, head of Qunar's Big Data research institute.