A number of Chinese tourists have already arrived in Belarus without visas thanks to the Belarusian-Chinese visa waiver agreement, BelTA has learned.
Xing Yu, a sales manager in a Beijing company, was the first Chinese tourist to step down from the aircraft ramp onto the Belarusian soil. He was gifted a certificate for a Minsk hotel suite as part of a VIP program. The certificate can be used today or the next time when he arrives in Belarus with his family. The certificate is valid for one year and will expire in August 2019.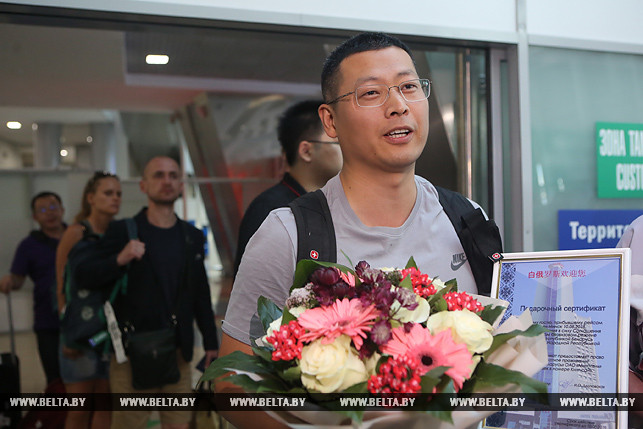 Xing Yu said it is the second time he has come to Belarus. He was glad to hear that no visas are required now. "I've phoned your embassy to ascertain the new rules for entering Belarus. The visa waiver agreement has made everything much simpler. Now I just have to buy a ticket. Belarus is a very beautiful country. People are kind. You have beautiful nature here. One can go hunting or fishing here. I like Belarusian cuisine a lot, particularly draniki [potato pancakes] and fish. This time I will once again taste your national cuisine," noted the Chinese guest.
According to Vitaly Gritsevich, Deputy Director of the Tourism Department of the Belarusian Sports and Tourism Ministry, Belarus has been working with the Chinese market consistently for a long time. "2018 has been declared the Year of Belarusian Tourism in China. The agreement to allow citizens of the two countries to visit each country for 30 days without visas is its logical continuation. Besides, we are working hard to improve our infrastructure so that Chinese tourists could be comfortable here," he said.
Vitaly Gritsevich added that visa waiver agreements are very effective. He mentioned Argentina as an example. "We signed a similar agreement with Argentina last year and we already see that its economic effect is rather high. In H1 2018 alone Belarus welcomed six times more Argentinians than in the entire year of 2017. I think the number of Chinese citizens, who will come to Belarus for tourism or business, will rise, too," he concluded.
The Belarusian-Chinese visa waiver agreement came into force today. Belarusians can stay in China without visas for 30 days per trip or at most 90 days per year. The same rule applies to Chinese citizens in Belarus. If a person wants to stay for more than 30 days or wants to engage in education or business, he or she will need to acquire a special visa. The visa waiver agreement applies to private trips, business trips, and tourism trips. The intergovernmental agreement to allow holders of regular passports to travel without visas was signed in Qingdao on 10 June during the Belarus president's working trip to China. Belarus is one of the few European countries, which have signed a visa waiver agreement with China.