Israel Launches Numerous Initiatives to Tap the Potential of Chinese Outbound Tourism Market
2016 Israel Government Tourist Office China Road Show kicked off in Hangzhou on November 21, followed by Wuhan on November 23, and came to a successful end in Guangzhou on November 25. Organized by the Israel Ministry of Tourism, executed and supported by CBN Travel & Mice and World Travel Online, this Road Show totally attracted more than 550 Chinese outbound tour operators, airlines and media in these three cities.

A group of representatives from Israel Ministry of Tourism as well as 33 Israel tour operators, hotels, airlines and suppliers of specialty products such as cosmetics, diamonds and others presented in the Road Show to reveal the Israel's abundant tourism resources and characteristics to Chinese travel trade and consumers, aiming at attracting more Chinese tourists.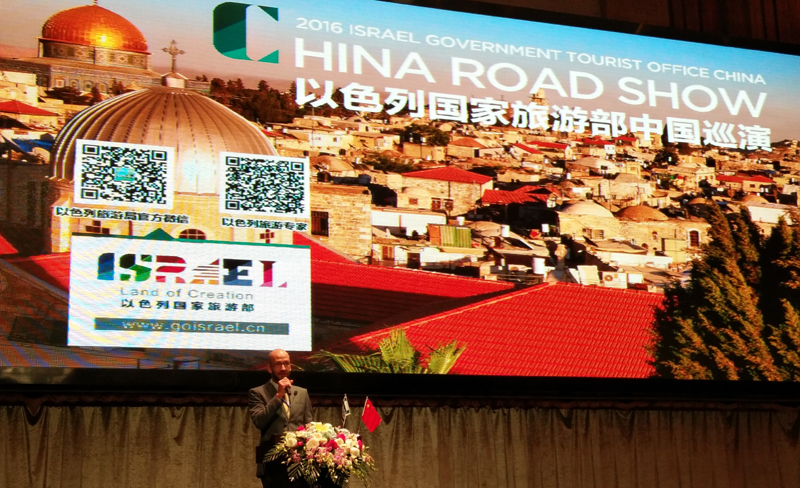 Mr. Bora Shnitman, Israel Tourism Attaché & IGTO Director, Beijing at Israel Ministry of Tourism
gave an impressive presentation to the attendee in the Road Show.
"The outbound tourism market in Central and South China is developing rapidly and becoming mature gradually. We select Hangzhou, Wuhan and Guangzhou as the host cities of the Road Show mainly because the developmental prospects of these three major cities. Through the Road Show, we aim at making Israel tourism Characteristics, experiences and high-quality products well known by Chinese travel trade in these areas, and also helping Israel travel trade learn the preference of Chinese tourist", said Mr. Bora Shnitman, Israel Tourism Attaché & IGTO Director, Beijing at Israel Ministry of Tourism.

During the Road Show, the attendee are impressed by the presentation about Israel as a destination and about the online training provided by travel experts. They also had a lively conversation with Israel travel trade and leaned a lot about Israel tourism market.

| | |
| --- | --- |
| | |
| The attendee are impressed by the informative presentations | More than 10 media interviewed Mr. Bora Shnitman in good order. |
Israel Government released new visa policy to Chinese citizens on November 11, 2016. Now Chinese citizens can apply for a 10-year multiple-entry visa which allows for multiple visits of up to 90 days each for business or tourism purposes.
Hainan Airlines has added a direct flight to its Beijing-Tel Aviv route since November 7, 2016. Now the route operates four times a week – on Monday, Tuesday, Thursday and Sunday. Cathay Pacific Airways plans to open the Hong Kong- Tel Aviv route on March 26, 2017. This route will operate once a week, providing more options for business travelers and tourists in many cities in South China. With the addition of El Al's direct flight connecting Beijing and Tel Aviv three times a week and direct flight connecting Hong Kong and Tel Aviv six times a week, passengers can enjoy a variety of benefits and conveniences.
Chinese tourist arrivals to Israel are growing year by year. There are more than 60,000 Chinese tourists visited Israel by the end of October this year, increasing by almost 63% compared to the same period in 2015, and exceeding the total number of Chinese tourist arrivals in last year. It is expected that Chinese tourist arrivals to Israel will reach to about 70,000 by the end of this year and more than 100,000 in the next year.
| | |
| --- | --- |
| | |
| Busy and beneficial B2B session during the Road Show | Lively conversation between Chinese and Israel incoming service providers |
Israel travel trade took many positive actions to show their warm welcome to Chinese tourists. A series of initiatives have been implemented in Israel, such as training Chinese-speaking tour guides, publishing Chinese tour brochures, providing Chinese TV channels in hotel rooms, supplying boiled water and convenience food for Chinese tourists, and inviting Chinese chefs to local hotels to provide training to the cooks on how to cook authentic Chinese food, with a clear aim to cater for the increasing number of Chinese tourists. Israel Ministry of Tourism has set up its Chinese official website and created its official WeChat and Sina Weibo accounts to energetically promote Israel online, meanwhile providing various training to the local travel trade so as to enhance their strength in designing and marketing the tourism products of Israel.
For each Road Show, Israel Ministry of Tourism prepared three diamonds, two round-trip air tickets and multi-day stay in a five-star hotel as gifts for the attendee. Those who got these wonderful gifts are really the super lucky guys.
The lucy guys won the big rewards at the Roadshow
Related News in Chinese:
以色列旅游局再度巡回路演 发力中国出境游市场