VisitBritain has reported a record year of growth, with international visitors spending £800 million more here than last year.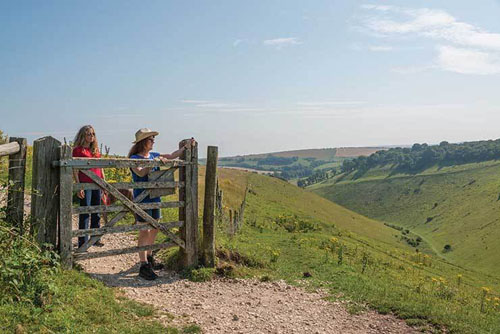 The agency also reported that China has entered the list of Britain's top 10 most valuable markets.

The numbers, announced at the launch of VisitBritain/VisitEngland's 2015-16 annual review, follow record figures for inbound tourism to the UK in July, which reported visits up 2% to 3.8 million compared to the same month last year.

Domestic visitors also spent more in England last year than ever before, with £19.6 billion attributed to Britons's overnight trips, up 8% on 2014.

The agency claimed that in England in particular, domestic visitors spent an additional £97.2 million as a result of its 2015 'Holidays at Home are GREAT' campaign.

Last year visitors from the US - Britain's most valuable source market - spent £3 billion in Britain for the first time, and visits from China - the world's largest outbound market, increased by 46% - with spend up 18%.

This moved China into Britain's top 10 most valuable markets.

British Tourist Authority chairman, Christopher Rodrigues, said that VisitBritain/VisitEngland was in "pole position" to build on this growth and fulfil its government remit of growing the value of inbound tourism to the nations and regions, and developing England's tourism product through the Discover England Fund.

He said: "Tourism is a shining star in an uncertain world. As our fourth biggest service export, and one of our fastest growing sectors, tourism's importance as a key economic driver and job creator is clear.

"While the talk is of trade deals with new markets, tourism is already leading the way, competing strongly in our most valuable source markets such as the US and in markets that are crucial for our future, including China."

VisitBritain will launch its #OMGB 'Britain, Home of Amazing Moments' campaign with new content this autumn across its major markets in Europe, the US and Australia and the growth markets of China, the Gulf countries and India.

"Once again we have shown our ability to build great partnerships, leveraging private sector money to amplify our message and convert the aspiration to travel into bookings," said Rodrigues.

"We have received £12.7 million cash and in-kind for our international marketing, working with commercial partners including Expedia, Hainan Airlines, STA Travel and British Airways and a further £2 million in-kind from trade partners for Holidays at Home are GREAT."

He said the UK government's Tourism Action Plan, announced in August, showed its commitment to the success of the tourism industry.

This included the launch of the £40 million three-year Discover England Fund to develop England's tourism offer.

Tourism Minister Tracey Crouch added: "Together with VisitBritain/VisitEngland, our tourism strategy is working."