World Tourism Summit: China Wide Web and Unique Chinese Social Media are most cost effective in Attracting Chinese Travellers
The World Tourism Summit was successfully held alongside World Routes in Chengdu between September 25th and 27th.

The Summit attracted senior tourism officials from UNWTO, WTTC, CNTA, Ministers and Directors of Tourism from many countries as well as hundreds senior travel executives from around the world.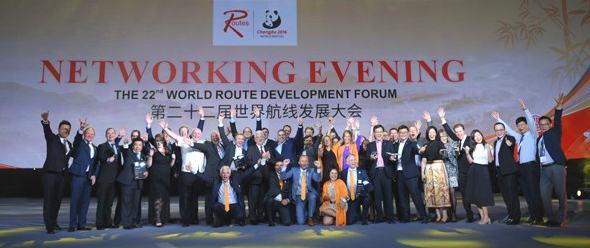 The President of WTTC, David Scowsil and Executive Director of UNWTO, Mr Zhu Shanzhong who was also a Deputy Chairman of CNTA, Deputy Governor of Sichuan Province, Director General of Sichuan Tourism Commission, Vice Mayor of Chengdu were among the speakers of the World Tourism Summit.

The whole day long Summit provided participants with a number of presentations and panel discussion sessions around a number of current industry issues including: global tourism and air travel, future patterns of travel as well as airport capacity and tourism infrastructure.
CEO of CBN Travel and MICE, Dr Wu was invited to deliver a feature

presentation on

"the most cost effective way of attracting Chinese travellers"
Dr Wu, Chief Executive Officer of
CBN Travel and MICE
, delivered a feature presentation on "the most cost effective way of attracting Chinese travellers". Many foreign audience discovered the real reason why they could not "google" things in China? why WeChat and Weibo have more users in China than Facebook and Twitters in the world. All those are a result of the "Great Firewall of China". Yet China has the largest number of Net users in the world with over 721 million by the end of June 2016.
More importantly for the aviation and tourism industry is that majority of Chinese enjoy acquiring destination information or search for incoming service providers from airlines to airport via the China Wide Web or through the channel of Chinese social media with WeChat and Weibo being the most popular each with over 600 million active users therefore, China Wide Web and Chinese social media are very important and can be most cost effective way of promoting foreign destinations in China.
Dr Wu concluded: The most cost effective way of reaching the Chinese outbound market is via the China Wide Web backed by Social Media activities in China. Chinese are particularly keen on using social media for not only information but also communications such as using QQ and WeChat so if any destination wants to attract Chinese visitors and communicate with Chinese tour operators it is necessary to embrace Chinese social media platforms.
However, Chinese authorities require real name registration for Chinese social media accounts thus, making it real difficult for most foreign entities to register or manage own social medial accounts in China. Specialist partners in China like CBN have in-depth knowledge of the market and have the experience and local resources that foreign destinations and businesses can readily benefit from. So better to leave the specialist tasks to the professionals!