Chinese Tour Operators and Ski Enthusiasts found out the best Ski Resorts of USA in Beijing
Aspen & Snowmass,the Best Ski Resorts in USA are inviting Chinese Tour Operators and Ski Enthusiasts for a real treat.
Taking the opportunities of Beijing's successful Winter Olympic bid and the latest revised visa policy,
Aspen & Snowmass
, one of the best ski resorts in USA, held its workshop in Beijing on 22, Feb, 2016. Kristy, its Gobal Sales Director, as well as Sonia, Asia Area Manager, and Sales Manager of Aspen Ski School, Sarah, attended the workshop.
Gobal Sales Director, Kristy, Asia Area Manager, Sonia, Sales Manager of Aspen Ski School, Sarah,
as well as COO of CBN Travel & MICE and World Travel Online took photos with tour operators
Located in Colorado, USA, Aspen & Snowmass is a very attractive winter destination. There are four mountains here, namely Aspen, Buttermilk, Aspen Highland and Snowmass. With its annual snowfall of 8 meters, Aspen is very popular among the ski and Snowboard lovers. What's more, every year, hundreds of events held in Aspen catch people's eyes. For example, Audi FIS Alpine World Cup Finals will come here next year, which will attract more and more international visitors to come.
In order to promote its tourism, last year, Aspen Skiing Company invited a delegation of international tour operators and representatives from ski clubs to participate in a Fam Trip to Aspen. Aspen was highly praised by the members of Fam Trip. One of the member of this delegation, Mr. Hao Aiqiu, Vice General Manager of CSHTS, said," Aspen is a wonderful skiing destination for people. It possesses the best nature condition and various ski tracks, suitable for skiers of all levels."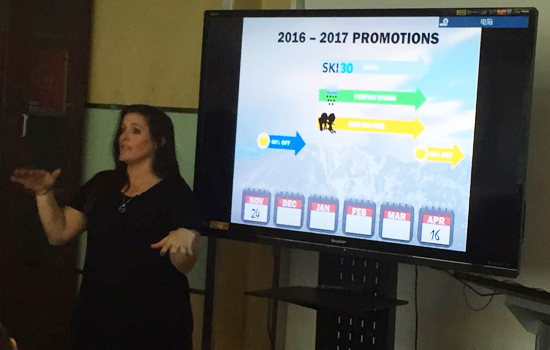 The Global Sales Director of ASC, Kristy shared the unique selling
points of Aspen being the best known ski resort in the USA
Aspen is not only a perfect destination for skiers, but also a wonderland for children. Every Friday night during the peak of winter season, there is Ullr Nights, a nighttime, winter wonderland party at Elk Camp on Snowmass. And the Hideout, an innovative learning center for young skiers, is built in Buttermilk.
Also, non-skiers can learn ski quickly and effortlessly in Aspen. There are more than 1,300 instructors here, and they surely impress all visitors with their high skill and unique way of teaching. During the workshop, Ms Liu Tianyi, CEO of GoSnow, CAISSA, who participated in the Fam Trip last year, shared her views of the instructors,"they are very professional and experienced."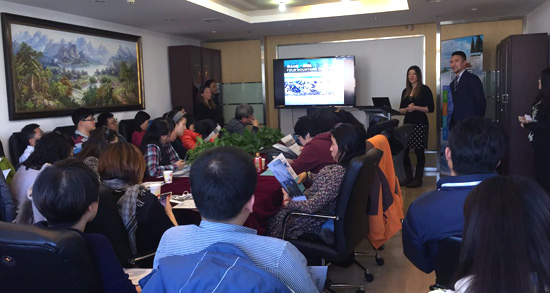 Asia Area Manager Sonia did lively presentation about numerous attractions and packages
that Chinese tour operators and skiers can choose to visit Aspen throughout the year.
Aspen boosts convenient transportation and hospitality industry. The Aspen-Pitkin County Airport accommodates nonstop flights from eight major U.S. airports on United, American Airlines, and Delta. And there are up to 218 flights per week in the winter. As for the hotels, from aparthotel to luxury hotels, all kinds of hotel are available in Aspen.
Adam Wu, COO of
CBN Travel & MICE
and
World Travel Online
, said that he was confident in the future of Aspen. He commented," Now China is encouraging people to participate in the winter sports, and the latest visa policy lengthens the validity of tourist and business visas from one year to 10, both of which will surely attract more and more Chinese visitors come to Aspen."
"Welcome to Aspen & Snowmass" said Kristy at the end of the workshop.