The geysers of the Géiseres del Tatio in Chile are the highest geothermal field in the world. They are found at 4,200 meters above sea level.
Found at 4,200 meters above sea level are the geysers of the Géiseres del Tatio, the highest geothermal field in the world and one of the main tourist attractions of the town of San Pedro de Atacama. To get there you have to get up early and travel roads that penetrate deep into the highlands of the
Chilean
Altiplano.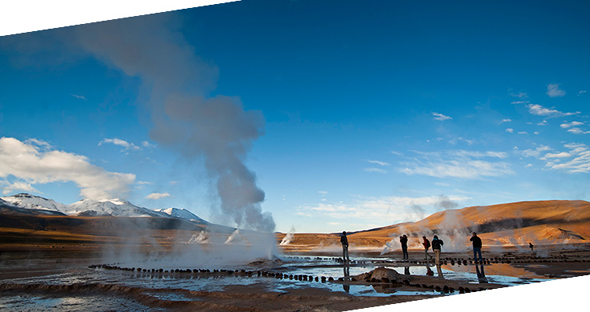 The show here is breathtaking. The combination of low outdoor temperatures (sometimes as low as -10°C/14°F) and the high temperatures of the water emanating from the crater (about 86°C/187°F) causes the formation of plumes of steam that reach up to 50 meters in height. The first rays of sunshine add to the mix, giving a theatrical air to the environment, while some daring tourists bathe in the thermal pools generated by this phenomenon.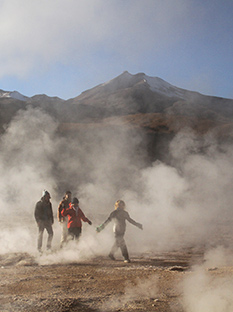 El Tatio is one of the most striking places in the region. For nearly a century, since the beginning of geothermal exploration in Chile, the geysers have provided a great touristic opportunity, with an environment surrounded by fauna composed of vicuñas and guanacos (both South American camelids), vizcachas (a rabbit-like member of the chinchilla family) and foxes, among others, against the backdrop of the volcanoes.
Following the geysers, the ideal scenario is provided by Termas de Puritama (meaning "hot water" in the native Kunza language), a more enticing alternative to the pools of El Tatio. The rocky road meanders through the Andes and some of its main volcanoes stand over the area like silent guards. Puritama is a small spa resort with minimal intervention consisting of 8 natural pools with a temperature of 33.5°C (92°F), which are connected by wooden walkways and have changing rooms that allow for a comfortable and intimate experience.
Relevant Chinese News:
智利地热谷:全球最高的间歇泉聚集地