Chinese Vice Foreign Minister Visits Seychelles and Signs Mutual Visa Waiver Agreement
Chinese vice foreign minister signed Agreement on Mutual Exemption of Visa Requirements with Seychelles to enhance the cooperation between China and Seychelles.
Recently, Chinese vice foreign minister Xie Hangsheng paid a visit to Seychelles and signed Agreement on Mutual Exemption of Visa Requirements on behalf of the Chinese government.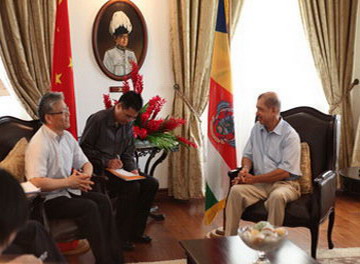 During his visit, Xie met with Seychelles President James Alix Michel, Vice-President Danny Faure and Foreign Minister Jean-Paul Adam. Xie remarked that the ties and cooperation between China and Seychelles are growing soundly, which brings practical benefits to the two peoples and stands as an example for the world of equal treatment, sincere mutual help, mutual benefit for win-win result between one big country and one smaller country. The Seychelles side noted that as a sincere friend of Seychelles China sticks to the position of equality of all countries, big or small in real terms. The Seychelles side appreciated China's assistance and support for years and expressed their willingness to work with China to further deepen the bilateral relations and strengthen their cooperation.

After the meeting, Xie and Adam signed the Agreement between the Government of the People's Republic of China and the Government of the Republic of Seychelles on Mutual Exemption of Visa Requirements and jointly met the press. Adam remarked that the Agreement is a milestone in the history of the relationship between Seychelles and China, which will better facilitate the exchanges and communication between the two sides. Xie said that the Agreement opens a new chapter in bilateral ties and the two countries should fully grasp the opportunity to pragmatically push ahead their friendship and cooperation.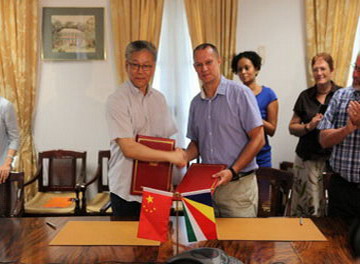 Xie stressed that by following its mission of "diplomacy for the people" the Chinese Ministry of Foreign Affairs tries hard to ensure that the Chinese people can travel to other countries happily and return home safely. The Agreement is the first comprehensive visa waiver agreement covering all passports between China and an African country. In future the Ministry will continue such efforts to better facilitate the out-bound travel of the Chinese people.
Chinese Ambassador to Seychelles Shi Zhongjun and Principal Secretary for Foreign Affairs of Seychelles Maurice Loustau-Lalanne attended the meeting and witnessed the signing of the Agreement. The Agreement will come into force once the respective legal procedures of the two countries are completed. Under the agreement, with valid passports citizens of the two countries will enjoy visa-free travel between the two countries for a period of up to 30 days.
  Source: Chinese Embassy in Seychelles
Please
contact us
in case of Copyright Infringement of the photo sourced from the internet, we will remove it within 24 hours.