Amazon Rainforest, Brazil Carnival, Iguazu Falls, Polar Glacier, passionate tango, you may not have been but you must have heard. Those are Brazil and Argentina very distinctive tourism resources. INPROTUR and EMBRATUR conducted the first joint tourism road show in China. Oct. 27 in Shanghai, Oct. 29 in Beijing, there are more than 250 Chinese tour operators and media participate these workshops, which make warm atmosphere on the spot. Ms. Carina Valicati from Inprotur and Mr. Laercio Branco from Embratur gave the active presentations which provide a comprehensive knowledge of the local travel resource and products of Argentina and Brazil to warm-up travel to South America.
The landmark of Rio de Janeiro
——Christ Mountain

Glaciar in Perito Moreno, Argentina

Brazil Carnival

Dynamic Tango
The total number is exceed 50 million Chinese traveling overseas by 2010 and it will reach 100 million Chinese passengers by 2020 in expectation. In order to promote successfully in China's outbound tourism market for the first workshop, Inprotur and Embratur not only brought the famous Cerro de Siete Coloure, Christ Mountain, and the Iguazu Falls, etc., but also the local cuisine tapas, life tango and samba dancing into the workshops to share with the Chinese tour operators. All these glamorous South American attractions and culture brought zero distance feeling to the Chinese visitors.
Mr. Laercio Branco from Embratur said "In Asia, China is already Brazil's second-largest outbound travel market, second only to Japan. Brazilian hopes that through the opportunity of the upcoming World Cup and the Olympic Games, to attract more and more Chinese tourists to visit Brazil." When he is asked whether he is confident in the Chinese outbound market, Mr. Branco said humorously: "The confidence is certain. In the future the Brazilian Tourism Board office in Asia may move from Japan to China!"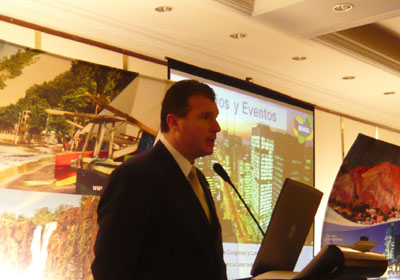 Mr. Laercio Branco is introducing about
Brazilian tourism resources
Ms. Carina Valicati from Inprotur expressed "You can see everything in Argentina. With China's outbound tourism demand expansion, Argentina hoped that by virtue of its unique culture and exotic scenery aspire to become a tourist destination for Chinese tourists. "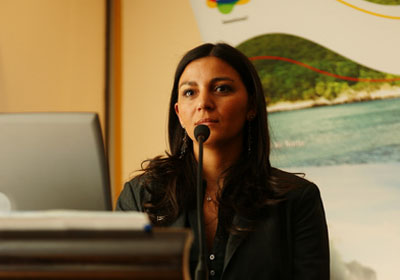 Ms. Carina Valicati is doing the presentation
"South America is a charming market with plenty of tourism resource. There are a large number of fans in China have deep love for its football, tango, carnival and so on", Ms. Chen Hong, Manager of Outbound Travel Center from China International Travel Service Headquarter expressed, "it is quite normal for those people that they are eagerly visiting there. This encourages us to create new routes to satisfy their large requirements."
Mr. Marco Tulio S. Cabral, First Secretary of Economic and Trade Section from Brazil Embassy, Mr. Juan Carlos Paz, Counsellor of Economic and Commercial Section from Argentine Embassy and Mr. Luo Yuquan, Deputy Director of Tourism Promotion & International Communication Relationship Section from China National Tourism Administration attended it.
The road show also gets big support and assistance from
China Business Network
(CBN) and
World Travel Online
(WTO). "The two destinations are new and attractive," Ms. Linda Ruan, Marketing Director of CBN indicated "at the first beginning of the promotion work, we received quite active reflection from those in China outbound travel agencies. Our media partners throw focus on it as well. The Chinese tour operator numbers are more than expectation, and relevant documents we prepared for were in short supply. According to this, we will associate with INPROTUR and EMBRATUR to do much more promotion work in China to fulfill the market requirement."
During the show, tango and Latin music which prepared by the host are eye-catching. The atmosphere is pushed to the climax when candidates enjoyed and fell in love with South American charming culture.

Chinese tour operators are listening
carefully on the spot

Chinese tour operator is communicatin with Ms. Carina Valicati

Mr. Laercio Branco is communicating with Chinese tour operators warmly

Amazing Latin music
About Brazil:
Brazil covers nearly half of South America and is the continent's largest nation. A land of magnificent beaches, vast rain forests and music-fueled cities, Brazil bears an astounding variety of natural and cultural wonders. This is the world's largest country in the tropics, and the only limit to a journey here is your imagination. Besides football, tango, samba, various of activities, you can also visit the most popular cities which are Brazilia, St. Paul and Rio de Janeiro.

About Argentina
The vast Argentine territory has a diversity of landscapes, where ice fields contrast with arid zones; mountains with valleys or plateaus; fluvial streams and lakes with large oceans, broad grassy plains with woods and forests. On the southwestern Argentine side, there are more than 300 glaciers, some of them in the Parque Nacional Los Glaciares, Glacier National Park, extends for 217 miles (350 km) along the Andes. Tango is cultural quintessence of Argentina.

Relevant Chinese News:
阿根廷和巴西在中国联手打造南美旅游热