MOSCOW: President Hu Jintao and Russian President Dmitry Medvedev pledged to further cement the two countries' strategic partnership of cooperation in a joint communique they signed Wednesday.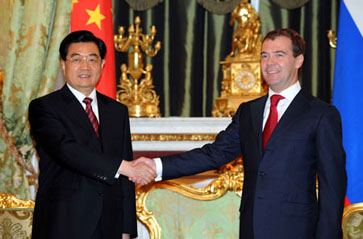 Chinese President Hu Jintao (L) and Russian President Dmitry Medvedev
shake hands in Moscow's Kremlin, June 17, 2009.
In addition to stressing mutual support for their core interests - namely national sovereignty and territorial integrity of the two nations - the two leaders also highlighted the importance of working together on major international issues.

Both leaders expressed serious concern about the nuclear threat on the Korean peninsula. They stated that a resolution - which the United Nations Security Council unanimously adopted over the weekend - is aimed at "resolving the nuclear issue on the peninsula through political and diplomatic means".

The two presidents called for resuming the Six-Party Talks.

They agreed to beef up efforts to stop the spread of weapons of mass destruction, and especially to prevent them from falling into the hands of terrorists.

The two leaders also signed a series of agreements to broaden collaborations in trade, investment and mining, including the framework on a $700 million loan between Export-Import Bank of China and Russian Bank of Foreign Trade.

Memorandums on energy cooperation will likely cover sectors such as coal, oil, electricity, gas and nuclear power.

During his meeting with Medvedev, Hu said he believed the broadened energy cooperation, especially in the sphere of renewable and new energy, would become new engines to drive the two countries' strategic partnership of cooperation.

Reiterating that a Sino-Russian partnership remains a priority for China, Hu said the two countries must deal with their differences but promote mutual trust and maintain stable and healthy Sino-Russian ties.

"We must advocate the ideal of peace, that is, the two countries will remain friends for generations," he said.

Medvedev said that he hoped the two countries will increase joint projects in science and technology, agriculture, telecom and border trade.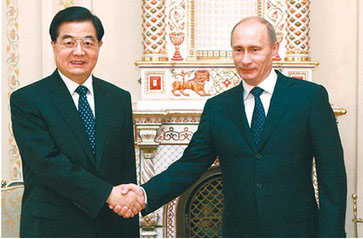 President Hu Jintao greets Russian Prime Minister Vladimir Putin in Moscow Wednesday.
"Whatever crisis the world faces, it will not affect adversely the relations between our two countries," Russian Prime Minister Vladimir Putin told Hu during their meeting Wednesday.

Hu also stressed the importance of cultural exchanges between, adding that the Year of Russian Language is popular among many Chinese.

The two presidents also agreed to stage the Year of Chinese Language in Russia next year.

Also Wednesday, Hu conferred a medal to Russian Anton Lebedev for his leadership with his crew that helped deliver heavy equipment to the Tangjiashan quake lake area, which formed after the May 12 Wenchuan earthquake last year and would have caused additional suffering to tens of thousands already displaced by the earthquake.

Lebedev was one of the 60 Russian politicians, engineers, academics and artists to receive medals from Hu for their contributions to the two countries' friendship since the founding of the People's Republic of China in 1949.

Hu and Medvedev also attended a art show marking the 60th anniversary of the diplomatic ties.

Hu will meet with Russian Federation Council Speaker Sergei Mironov before he leaves this afternoon for his state visit of Slovakia.