WTM Vision Conference - Beijing was successfully held in Beijing On April 8,attracting more than 150 attendees including senior tourism officials from both China and other parts of the world as well as Ambassadors, relevant Counsellor and Directors of National Tourism Offices present in China as well as top executives of Chinese tour operators and travel services from all around China.
The number of outbound trips made by Chinese travellers is seeing double-digit growth, thanks to rising disposable incomes and web bookings, reveals exclusive research unveiled today (8 April) at the WTM Vision Conference - Beijing.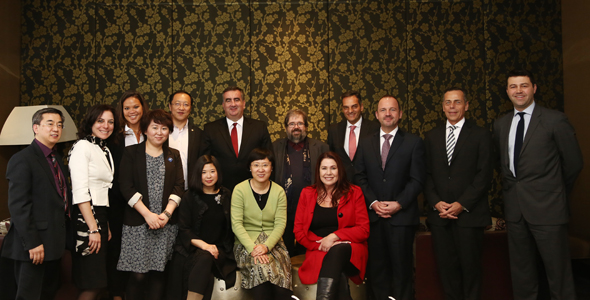 Speakers and Panelists met with Mrs Xinrong Zhang, Deputy Director General of
China National Tourism Administration(CNTA) at the WTM Vision Conference - Beijing.
Forecasts by Euromonitor International reveal that outbound trips from China are expected to record a'sharp'15% rise in CAGR (compound annual growth rate) from 2012-2017.

Hong Kong and Macau are the most popular destinations but non-Asian countries are rising in importance, delegates have heard today.

Meanwhile, inbound tourism flows to China are forecast to grow at a 2.3% CAGR over the same period, reveals the Forecast Revisit for the Global Travel and Tourism Industry report.

| | |
| --- | --- |
| | |
| COO of CBN Travel & MICE, Dr Wu was the host of the Conference and Moderator of the Panel Discussions | WTM Vision Conference attracted over 160 senior tourism officials and top executives of Chinese tour operators and travel services from all around China. |
Hong Kong is the largest source of arrivals, accounting for 27m, but Western European and US markets are expected to grow, Ray Li Senior Research Analyst at Euromonitor International states.

He will also reveal how rising disposable incomes are leading to a 'sharp' rise in sales of discretionary goods and services, with travel – along with cars and fashion – especially favoured.

| | |
| --- | --- |
| | |
| WTM Vision Conference - Beijing Opening with Simon Press, Exhibition Director, World Travel Market | Ray Li, Senior Research Analyst at Euromonitor International presented the latest findings of Tourism |
Also, the changing role of women is driving demand for clothing, cosmetics and travel, according to Euromonitor international.

Another major factor in the Chinese travel market is the intensifying competition between China's online travel agencies, including Ctrip, Qunar and eLong.

China is the world leader for number of internet users and smartphones sold, and web giants such as Tencent and Baidu are making inroads in the online travel market, delegates at the WTM Vision Conference – Beijing heard.

Chinese hotels are performing strongly, and although China's hotel industry is dominated by budget properties, the luxury segment is expected to achieve strongest growth between 2012 and 2017.

Wendy Wei Zhang, Partner Marketing Manager,
Global Blue China analyse the Chinese outbound shopping markets

Mrs Lisa Dinh Business Development, International Tourism & Marketing, El Corte Ingles Department Stores Spain and Portugal was speaking in Shopping While Travelling session
Reed Travel Exhibition Director
World Travel Market
Simon Press, who opened the conference today, said: "WTM is delighted to be returning to China for its second Vision conference in the country, following the success of last year's inaugural event which took place in
Shangai
.
"China's influence on the global travel and tourism continues to grow. WTM has first-hand experience of this with more and more exhibitors and visitors attending the event from China, alongside a growing number of buyers targeting Chinese exhibitors."
The conference is in association with
China Business Network
was held in Beijing Marriott Hotel City Wall.
| | |
| --- | --- |
| | |
| Sonja Lombard, Managing Director of Voortrekker Monument and Nature Reserve | The presentations captured Chinese tour operators' attention |
From Left to Right: Executive Director of China Tourism Research Institute, Prof. Wolfgang Arlt;
Secretary General of China Tourism Association, Mr Shijun LIU; President, ECTAA, Boris Zgomba;
Fernando Méndez, the Minister of Tourism of La Gomera, Spain were in the the panel discussion section
As well as the report from Euromonitor International, the event will feature high-calibre speakers sharing expert analysis, statistical assessment and interpretations with the industry's senior leaders.
Delegates will receive the Euromonitor International report via email free of charge after the conference.
| | |
| --- | --- |
| | |
| Chinese tour operators raise the answers actively | Networking Session after the conference |

Related News in Chinese: