The 2nd Webinar of Discover Chile was hold successfully on December 18th and 20th in China. This online training program gave a comprehensive introduction to the rich tourism resources of Chile. It attracted more than 550 Chinese travel trade professionals to learn about Chile. The webinar was hosted by Chile Tourism Board and co-organised and produced by China Business Network (CBN) and World Travel Online (WTO).
Chile becomes a popular destination and high-end travel market for Chinese visitors. In this situation,"
The 2nd Chile Tourism Webinar
" was successfully launched on December 18th and 20th, 2012 by
Turismo Chile
, aimed at helping Chinese operators learn more about Chile and introducing the rich resources of Chile. The 2nd Webinar attracted more than 550 Chinese tour operators, it's worth mentioning that CAISSA Touristic even organized a group to attend this webinar.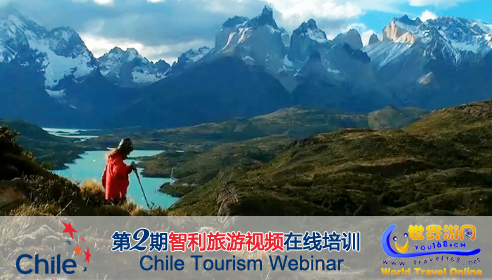 To support this Webinar, Ms. Carolina Valenzuela, Long Haul Market Manager of Turismo Chile, sent her greetings through the video to the Chinese travel professionals. She said:"It is really nice to invite you to attend the webinar. I believe this session will help you to learn more about this fantastic country and help you to develop the potential travel market. We welcome you to travel to Chile and you will have an unforgettable experience here."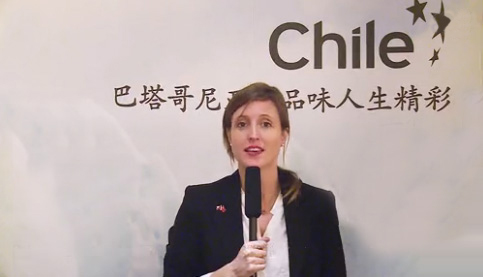 Ms. Carolina Valenzuela, Long Haul Market Manager of Turismo Chile, sent her greetings through the video
China Business Network
(CBN) and
World Travel Online
(WTO), as the co-organiser again, planned and produced successfully for the Chile Tourism Webinar by virtue of professional competence in organising tourism webinar. In this Webinar, the website is more complete, including a detailed map of Chile, information of Visa application, tour itineraries, relevant promotion materials and pictures. The video also presented more tourism resources of Chile, covering brief introduction of Chile tourism, five districts and climatic zones. In particular, Introduction of Chilean wine and seafood was also added in the video.
According to the video, Chinese tour operators can experience the real beauty and charm of Chile, such as the world's aridest desert-Atacama Desert, the most famous wine country, the origin place of skiing and snowboarding-Santiago, the ice field located in the world's third continent-Torres del Paine National Park, the UNESCO World Heritage site-the mysterious Easter Island, popular Chilean Wine tour and so on. The operators can get more inspiration from the video and design special and exciting tour itineraries.
| | |
| --- | --- |
| | |
| Chilean Wine tour | Mysterious Easter Island |

The tour operators speak highly of the Webinar after the training. Ms. Yang Xue, Travel Consultant from CAISSA Touristic said: "We are planning to make an itinerary including tour in Brazil, Argentina, Chile and Peru, so when we receive the invitation of Chile Tourism Webinar, we organize most of our personnels to attend this trainning. Chile is a totally new destination for us; we get lots of useful information of Chile from this Webinar."

Mr. Yu Fei, Sales Manager of Chengdu Overseas Tourist Corporation, also commended that, "Our company located in inland city, we have less chance to get destination's information and Chile Tourism Webinar offered a valuable opportunity for us to learn more about Chile. It's very useful."