In a bid to improve the tourism sector, Tourism Malaysia in conjunction with the Arabian Travel Market (ATM), Dubai - UAE have unveiled a campaign that will see over 36 million tourists visiting Malaysia and with tourist receipts reaching RM166 billion in 2020.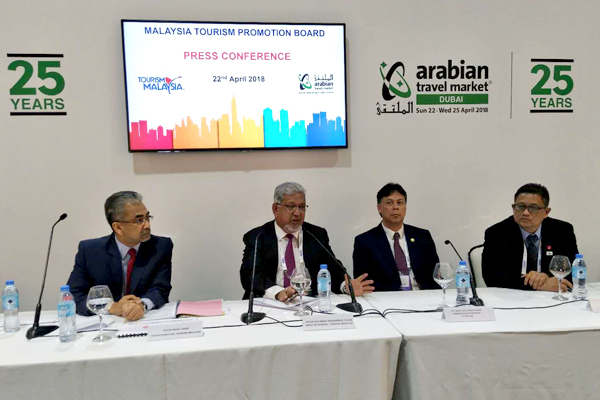 Dubbed Visit Malaysia 2020, the campaign was officially launched by Datuk Mirza Mohammad Taiyab, the Director-General, Tourism Malaysia, The launch was a colourful event to unveil the campaign's logo which portrays Malaysia's treasured flora and fauna. Mr. Datuk Musa HJ. Yusof, Senior Derector of International Promotion Division, Wan Zawawi Mohanmed,Director of North/East Asia Promotion Division, as well as Khairul Nizam Zakaria, Senior Assistant Direct attended the conference as well.
Speaking during ihc launch., Datuk Mirza said: "This year, Malaysia brings to ATM 2018 the many wonderful and diverse offerings of our country at Sheikh Said Hall No 3, Stand No. AS2220. The Malaysia Pavilion theme is Ethnic Revival, featuring elements of Malaysian Culture infused with a modem approach."
He added: ''Being one of the world's largest travel meet, ATM is on excellent platform to strengthen our presence in this market. This year's ATM provides a great opportunity for Malaysia to make several new announcements that will positively impact our promotion efforts here and subsequently echo in other parts of the world".
He explained that the objective of the campaign is to promote Malaysia as a top-of-mind destination, thus adopting the "Travel, Enjoy and Respect" tagline in affiliation with the World Tourism Organization's movement to raise awareness on how tourists can become catalysis for sustainable development and responsible tourism.