Chinese Tourists Welcoming(CTW) Awards 2011 were given to 21 destinations and companies at COTTM. The variety of tourism activities has been recognized during the 2011 Ceremony by rewarding National Tourism Organizations like
Zambia Tourism Board
(Bronze Award of Internet / Media),
Croatia
and
Slovenia
National Tourist Boards(Silver Award of Product Innovation) and
Malaysia Tourism Promotion Board
(Gold Award of Overall performance), and Attractions like
the British Museum
(Silver Award of Overall performance ).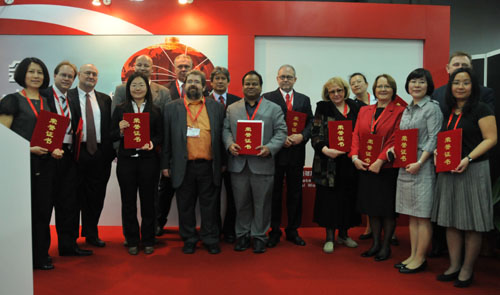 CTW Awards winners took photos together at COTTM.

The award for Croatian National Tourist Board and the Slovenia Tourist Board is the result of a successful tourism cooperation between two neighboring countries that began a year ago on the Chinese market, with the organization of "Experience Croatia, feel Slovenia" program, which included business workshops, a joint presentation of the Croatian and Slovenian Tourist Board and formal receptions in Shanghai and Beijing. After COTTM 2011, these two tourist boards will go to Shanghai for the second joint promotion event. They all believe that Chinese tourist market will have a bright future. There were more than 200 buyers visiting Croatia and Slovenia stands only the first two days during the COTTM.
| | |
| --- | --- |
| | |
| The representatives of Croatian National Tourist Board introduced their products to the interested buyers. | Bright and nice stand of Slovenia Tourist Board attracted many Chinese tour operators. |
According to China Tourism Academy (CTA) statistics, 57.39 million Chinese tourists traveled overseas in 2010, bringing a total of 48 billion U.S. dollars to overseas destinations. China National Tourism Administration (CNTA), predicts outbound travel from China would increase 16% to 65 million in 2011, while overseas spending would jump further 14% to $55 billion. By 2020, the number of Chinese outbound travellers could double. This would raise China within a decade to be among the top six outbound markets worldwide.
Relevant news in Chinese:

中国出境游领跑全球 COTTM2011国际展商新增20%