Industry insiders at the 4th Asia Luxury Travel Market (ALTM) exhibition in Shanghai predicted a resurgence in the luxury travel market, with the Asia-Pacific region and China in particular leading the way.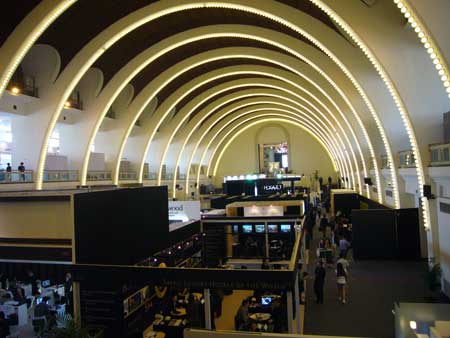 Exhibitors and buyers get together Wednesday at
the 4th Asia Luxury Travel Market exhibition.


Under the strong support of China Business Network(CBN) and World Travel Online (WTO), Promperu, Jamaica Tourist Board, Galicia Tourist Board and Net Tours took part in the ALTM and found the huge potential in Chinese market.



VIP buyers from different countries
visited Promperu Pavilion.

Mr. Ali Helmi, CEO of Net Tours
was talking with the Chinese buyer.

Exhibitors found that this year's exhibition showed high returns, and most of them expressed that all the buyers were from related high-end luxury tourism, which was very helpful for them. "We are aimed at promoting Peru tourism in China this time," Ms. Rosana Guinea, Incoming Tourism Coordinator Asia & Oceania of Promperu said, "and ALTM provides a good platform for us to reach the goal." Mr.Ali Helmi, CEO of Net tours, UAE, thought that Chinese luxury travel market had huge potential and increasing Chinese went to Dubai and Abu Dhabi for travel and shopping, thus, it was very helpful for exhibitors and buyers to find cooperation opportunities.

A survey released by the organizers based on 386 luxury travel buyers and suppliers said that 60 percent of suppliers had expanded their products range last year and expect 5 to 20 percent growth in the Asia Pacific market in the next 12 months. It predicted highest demand from the Chinese mainland, Hong Kong, India and Japan.

Potential buyers also showed confidence in the market.

"The ALTM forum held on Monday concluded that Asia offers the greatest growth for the luxury travel industry," Simon Mayle, marketing manager for ALTM organizer Reed Travel Exhibitions, told the Global Times Wednesday. "Japan is one of the leading tourist source markets in the world as is Australia. Furthermore, China is rapidly growing to be the leading source market behind established markets of the US."

According to him, this year's exhibition attracted 15 percent more buyers and 15 percent more exhibitors offering high-end hotels, resorts and other travel options, compared to last year.