During the great event of Shanghai Expo 2010, with professionals in the tourism industry at home and abroad coming all the way here, the 7th World Travel Fair 2010 (WTF 2010) was held successfully from May 27-29 at the Shanghai Exhibition Centre. This premium location helped to make WTF as an Expo 2010 "branch hall", promoted tourist resorts and popular tourism routes to the relevant industry associations and to the foreign or local consumers as well.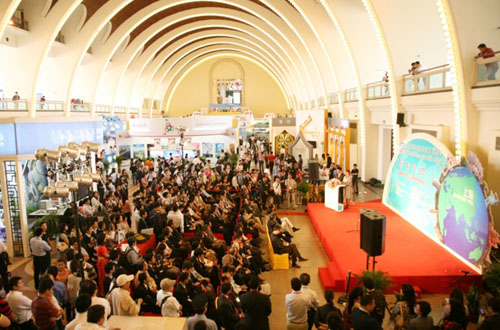 The opening ceremony of WTF 2010Again, as a long-term partner and cooperative media with WTF, China Business Network with CBN Travel Service and World Travel Online were invited to participate and report the whole event. During the three days of WTF 2010, clients such as Galicia Tourist Board, Jamaica Tourist Board, Mantis Collection, Victoria and Albert Museum, FITA 2010, Baltic Saitas, Discover Dubrovnik Travel Design, The Roman Baths, the British Museum, Big Bus Tours, Gulf Dunes, Central Hall Westminster, Reem Tours and Destination Management Chile S.A. as well as FITUR 2011 etc. were promoted perfectly by CBN and World Travel Online.


Marketing Director Ms. Linda Ruan
passionately introduced tourist
products to visitors

Mrs. Silvia de Vicente (right), Trade Officer from FITUR 2011 attended this event and saw the great potential of Chinese tourism market

As one of the hottest destinations in south-east Asia, Malaysia appeared on the stages of WTF 2010 with its unique itineraries too. Staffs from Malaysia Tourism Board introduced the new products such as diving, golf tours and rain forest discovery tours to trade visitors and hosted buyers. Besides the latest tourist information, several attractive tour packets were also pushed out.


Malaysia is one of the hottest destinations
in south-east Asia

Croatian National Tourist Board brought
lots of tourist brochures to visitors

After carrying out of a six-month visa-free policy for Chinese citizens with a Schengen visa during April 1st to October 30th, and the joint tourism promotion events of Croatia and Slovenia which were successfully held in Shanghai and Beijing, Croatian National Tourist Board paid great attention to this big B2B event. To attract more Chinese tourists is their objective.

According to the organizing committee's statistics, the three-day exhibition attracted 6000 professional visitors and buyers to participant on-site Match Making, Hosted Buyer program. In addition, there were dozens of Fortune 500 companies such as Bayer, General Electric, SAIC, Unilever, Siemens, Samsung came to the show for their business seek.

Meanwhile, as one of the associate events of WTF2010, 2010 WTF Awards announced at the opening night. With the principle of "Just, Fair, and Open", 2010 WTF Awards work with Sina.com modified the evaluation measure. Combining public review with professional accreditation, 2010 WTF Awards delivered awards with improved public reputation and professional market influence.

Furthermore, the Fourth OTF Outbound Tourism Forum also was held on May 28 at Shanghai Exhibition Center.

Relevant news in Chinese: 2010 上海世界旅游资源博览会圆满落幕


As a 3-day's business-to-business show, WTF 2010 was divided into professional/ Press and Public days. Compared with previous years, there was a dramatic increase on the recruitment of exhibitors and visitors. 450 joint exhibitors from 50 countries and regions, showcased their business booths with diverse characters to display the concept of diversified and depth tourism.